"Interesting characters, growing interrelationships, plausible reasons for crime and an amateur to get involved in finding the answers–it's like visiting friends and having an adventure rolled into one book after another."
–Gumshoe Review
If you enjoy stories with a touch of romance, suspense, or adventure (with a little fantasy thrown in), you've come to the right place.
Reviewers from Publishers Weekly, Booklist, Library Journal, and more have praised my mysteries, and I've hit the New York Times bestsellers list a number of times.
As a writer, my goal is to take you to on an adventure, be it with sweet heroines, sassy entrepreneurs, or to a strange new world.
Here on my website you'll find plenty of behind-the-scenes information, the real-life Lorraine–and her alter egos (Lorna Barrett and L.L. Bartlett), recipes, links, and photos.
So cut yourself a piece of virtual cake, pour yourself a cup of tea, and make yourself at home!
 "Bartlett combines murder, a touch of romance, and a lot of intrigue in this charming story. With a cast of personable characters, and a lively, fast-paced storyline, readers will be enthralled and delighted with this fresh new series."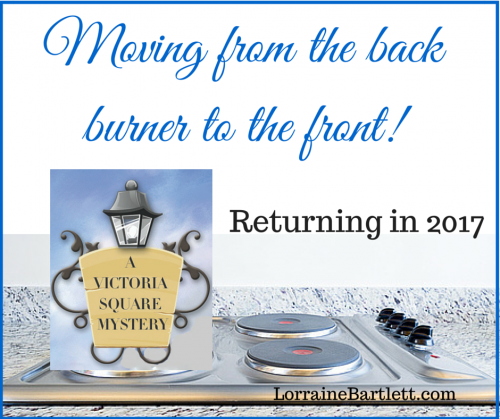 Like the picture says, Victoria Square is moving from the back burner to the front.
The series has been languishing while I've turned my attention to other things … like writing The Booktown Mysteries, the Jeff Resnick Mysteries, the Lotus Bay Mysteries, and the Tales of Telenia adventure-fantasy series … but readers have been begging for more Victoria Square and I'm happy to finally be able to oblige.
Cozy mystery author Laurie Cass and I will be collaborating on the series.  The next book is already in the works, and should be finished by year-end. Now we're waiting to hear when the series will be put back on the publishing schedule.  We're anticipating 2017 — but have no fear, we'll let you know if it will be any sooner.
Laurie and I have been friends for years and we're excited to begin this journey together. Check out Laurie's website and if you haven't already read her wonderful Bookmobile Cat Mysteries, I hope you'll give them a try.
---
"Lorraine Bartlett has just taken the word 'cozy' to a new level when she landed her readership on the shores of Lotus Bay!"
–Feathered Quill Book Reviews