The immensely popular Booktown Mystery series is what first put Lorraine Bartlett's pen name Lorna Barrett's name on the New York Times Bestseller list, and garnered a coveted Agatha nomination for best novel of 2009, but it's her talent — whether writing as Lorna, or L.L. Bartlett, or Lorraine Bartlett — that keeps her there. This multi-published, Agatha-nominated author pens the the acclaimed Victoria Square Mystery series, and the exciting Jeff Resnick Mysteries, and has many short stories and novellas to her name(s).
Lorraine  honed her characterization and plotting skills as a frequent writer for romance magazines. Her manuscript, Murder in Morton Mills, a traditional mystery, was a finalist in the St. Martin's/Malice Domestic contest. Her short story, Cold Case, featuring Jeff Resnick, appeared in Mystery in Mind: A Collection of Mysteries of the Paranormal, an anthology published in spring 2003. Her first novel, Murder On The Mind, written under the name L.L. Bartlett, and featuring Jeff Resnick, was published in November 2005. A Crafty Killing is the first book in the Victoria Square Mysteries. The Walled Flower, second in the series, hit the New York Times extended bestsellers list, while One Hot Murder hit the Times list at #16.
Lorraine lives in Rochester, NY, with her husband and three felines.
Bibliography

Writing as Lorraine Bartlett
The Victoria Square Mysteries
A Crafty Killing
The Walled Flower
One Hot Murder
Dead, Bath and Beyond
Recipes To Die For: A Victoria Square Cookbook
The Lotus Bay Mysteries
Panty Raid (A Tori Cannon-Kathy Grant mini mystery)
With Baited Breath
The Tales of Telenia Adventure-Fantasy Series
THRESHOLD
JOURNEY
TREACHERY
~ Short Stories ~
Love & Murder: A Collection of Short stories
We're So Sorry, Uncle Albert
Unconditional Love
Blue Christmas
Love Heals
Prisoner of Love
A Dream Weekend

Writing As Lorna Barrett
The Booktown Mysteries
Murder Is Binding
Bookmarked For Death
Bookplate Special (Agatha Nominee, Best Novel 2009)
Chapter & Hearse
Sentenced To Death
Murder On The Half Shelf
Not The Killing Type
Book Clubbed
A Fatal Chapter
Title Wave

Writing As L.L. Bartlett
The Jeff Resnick Mysteries
Murder On The Mind
Dead In Red
Room at the Inn
Cheated By Death
Bound By Suggestion
Dark Waters
Shattered Spirits
~ Short Stories ~
Evolution: Jeff Resnick's Backstory
A Jeff Resnick Six Pack
When The Spirit Moves You (A Jeff Resnick Story)
Bah! Humbug! (A Jeff Resnick Story)
Cold Case (A Jeff Resnick Story)
Spooked (A Jeff Resnick Story)
Crybaby (A Jeff Resnick story)
Eyewitness (A Jeff Resnick Mini Mystery)
Abused: A Daughter's Story
Visit Lorraine's Alter Ego Page
Whew! Now that the official stuff is out of the way, I can tell you about the REAL me.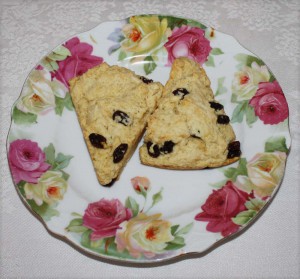 I love to bake. There, I've said it.  If baking didn't equal a LOT of calories, I could bake scones, a cake or cookies, or even a pie (Mr. L is the big pie fan around here) every day. We could buy a bigger freezer, but there just aren't enough people in our small circle to feed everything I would bake.  So instead, like to write about baking in my books.
I like to collect china.  Doesn't matter if it matches, I just like pretty china.  I grew up wedged between brothers and was a tomboy.  But now I've given into the inner girl within and collect china and  a lot of other girly stuff. Still, there's enough of the tomboy in me to enjoy writing the Tales of Telenia–a little SF, a little fantasy, a lot of adventure.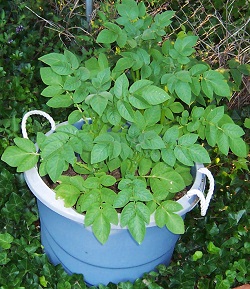 I love to garden–and mostly I attempt to grow veggies (not always successfully). Due to garden critters, I'm resigned to growing my crops in containers. (Those are potatoes to the left.)  I've shared my love of gardening with my character, Jeff Resnick.  He mostly tends a summer flower garden of annuals and perennials. I have plans to add a lot more rosebushes to my yard. I prefer the old roses that really do bush out and give hundreds of flowers.  I love to see the bees working the plants.
When I'm not on Facebook (oops, guilty pleasure), or making silly graphics, I'm writing. That's what I do.  I hope you like my stories.