---
Blue Christmas
by Lorraine Bartlett
Publisher:  Polaris Press
Price:  99¢
Christmas used to be a joyous time for Judi Straub, but that was before her parents passed away and her siblings became too busy to socialize with their old maid sister. Holidays spent with friends were a nightmare. Then one late December Judi won an all-expense-paid trip to Puerto Rico where Harry Powell swept her off her feet.  But her fantasy of happily-ever-after was quickly derailed.  Would Judi always have a Blue Christmas?
Kindle US ~ Kindle Worldwide ~ Nook ~ Kobo ~ iBooks ~ Smashwords
---
We're So Sorry, Uncle Albert
by Lorraine Bartlett
Publisher: Polaris Press
Price:  99¢
The Nichols family is all in a tizzy when it's discovered their penny-pinching Uncle Albert is worth millions, and decide he has overstayed his worldly welcome. But can they bump off the old man and get away with it?

---
Abused – A Daughter's Story
Publisher: Polaris Press
Price:  99¢
Emily Miller knew her life was about to change forever the day her mother said, "I'm pregnant." She'd hear those words again and again–and with every pregnancy Emily's father changed from bad to worse. For years the Miller family suffered through his rages. It took a terrible loss for the family to regroup, and all the love Emily can muster to save her siblings.

Lorraine Bartlett's powerful short story "Abused: A Daughter's Story" grabs hold immediately and doesn't let go. This heart-tugger's hero, Emily, displays amazing resilience and strength. I know I'll remember this story for a long, long time. —Julie Hyzy, Barry- and Anthony-award winning author of the White House Chef Mysteries
---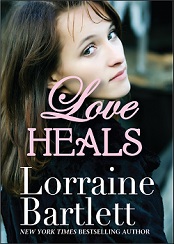 Love Heals
Publisher:  Polaris Press
Price:  99¢
A Valentine's Day Short story.
It's the most romantic night of the year and Diana Mason is alone. She broke up with her boyfriend because he wanted a playmate not a soul mate, but it's someone else who haunts her thoughts on the most romantic of holidays. Is there a chance he's thinking of her, too?

Kindle US ~ Kindle Worldwide ~ Nook ~ Kobo ~ iBooks ~ Smashwords
---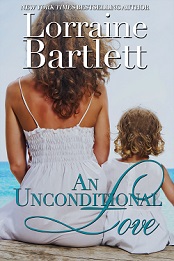 An Unconditional Love
Publisher: Polaris Press
Price:  99¢
A one-night stand changes Leslie Turner's life forever when she discovers she's pregnant. Keeping the child means losing her business. Even more devastating, the baby is born with a disfiguring birth defect. Her carefully planned life falls apart . . . until years later when she once again meets her baby's father. Can they ever be a family?

"What happens when your friend's widowed husband comes into your bar and drowns out his sorrow? You drive him home and that one night of unexpected passion changes the course of your life. This was a heartwarming and tender story of one woman's journey of love and forgiveness."  — Dru's Book Musings

---
Prisoner of Love
Publisher: Polaris Press
Price:  99¢
Rhonda Roberts went looking for love in all the wrong places, and found it through an ad in the personals section of her local newspaper. Family and friends think she's crazy when she becomes engaged to a convicted felon, and the lengths she'll go to see him set free.

We are all vulnerable in love, and Lorraine Bartlett's "Prisoner of Love" touches on all the emotions we face when we open ourselves to others: heartbreak, need, loss, and hope. Read it, and you'll find yourself saying, "Yes–yes, I understand."—Julie Hyzy, Barry- and Anthony-award winning author of the White House Chef Mysteries