Lorraine has teamed up with authors Kelly McClymer, and Shirley Hailstock to form Storytellers Unlimited. Check out our website.
SUMMER MAGIC … Tales from Blythe Cove Manor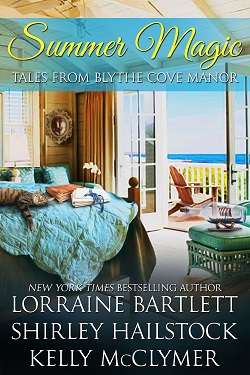 In SUMMER MAGIC, you'll learn the stories of three special guests who arrive at this beautiful inn overlooking the sea on Martha's Vineyard:
Sweet Dreams by Lorraine Bartlett: Serious life changes have pushed Paige and Alex Campbell to the brink of divorce. Still, they win a weekend at lovely Blythe Cove Manor and experience vivid dreams. Is there a chance this magical place inspires the nighttime fantasies that could help them fall in love again?
Forever Bound by Shirley Hailstock: What Ellie Sloan finds in the wall of her home sends her to Martha's Vineyard and irrevocably changes her life.
Honeymoon with a Ghost by Kelly McClymer: Wedding planners know that no wedding goes off without a hitch, but most don't expect the groom to vanish hours after the wedding. Emily Stevens heads for her honeymoon suite in Blythe Cover Manor alone, determined to find out who her husband really was.
Available from:
Kobo  |  iBooks |  Nook  | Smashwords
Kindle US  |  Kindle UK  | Kindle CA  | Kindle AU | Kindle Worldwide
---
WEEKEND MAGIC
Three women..Three weekends. Follow the magic. Discover the hidden secrets of the past or an intriguing glimpse into the future. Weekend Magic.
In this second edition of The Blythe Cove Manor series, Weekend Magic contains three stories by three bestselling, award winning authors. Join Blythe Calvert and her unwavering wisdom as she directs her guests to discover the hidden secrets of their past or an intriguing glimpse into their mysterious future.
A Final Gift by Lorraine Bartlett
Will anything heal the pain of a grieving daughter? When a trip meant to be a gift of a weekend trip together turns into a painful solo journey, can the magic of Blythe Cove Manor help?
Jenny Taylor who arrives alone, but Blythe Cove Manor was booked for Jenny and her mother. Grief separated them. Will Jenny discover the magic at the Manor in just one weekend?
An Everlasting Bond by Shirley Hailstock
A shocking secret comes to light after the arrival of the Parkers. Theresa Parker unwittingly opens a door to the past that could bring the family closer together or tear them apart. Was her simple act of love a blessing or a curse?
Songs of Sea and Sand by Kelly McClymer
Can Blythe Cove Manor help convince a daughter to reach out to her mother? There's a gulf between Anna and her mother, caused by an old argument. Will a special New Mother gift of a week at Blythe Cove Manor help Anna bridge the gap?
Get if for your:  Kindle US | Kindle Worldwide | iBooks | Kobo | Nook | Smashwords
---
BLYTHE COVE MAGIC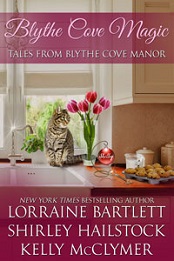 The Obsidian Cat by Shirley Hailstock
Ethan Pollack thinks of Blythe Cove Manor as his second home and Blythe his second mother. A career navy fficer, Ethan never returns to Martha's Vineyard without a gift for Blythe. However, he didn't know there was anything unusual about the obsidian cat he bought in Japan. Then he sees a woman in his room who isn't there.
Jenna Taylor plans, prepares, compares her options before making decisions, but one Memorial Day Weekend she uncharacteristically takes a vacation to Martha's Vineyard. The island is flooded with uniformed sailors. Meeting Ethan on the stairs of Blythe Cove Manor, she has no idea why she feels she already knows him.  Neither of them understand that there is something more at work that will tie them together. Can they unravel it? And do they really want to?
Ten Little Librarians by Kelly McClymer
Ten librarians converge on Blythe Cove Manor, all believing they are about to have a relaxing weekend. Little do they know that someone has other plans for them. A plan that involves making them admit to secrets they never expected to share. A plan torn from the pages of one of Agatha Christie's infamously chilling tales. Will Blythe return in time to save them from their own perfidy?
An Unexpected Visitor by Lorraine Bartlett
All is quiet at Blythe Cove Manor as its proprietress, Blythe Calvert, anticipates a peaceful holiday along with her cat, Martha. But then a taxi pulls up and drops off a troubled, runaway teen looking for a safe haven. Can the magic of Blythe Cove Manor heal this young girl's aching heart?
Available:  Kindle US | Kindle Worldwide | iBooks | Nook | Kobo | Smashwords
---
Our first group project is a 3-book boxed set called DANGEROUS SECRETS.
Available: Kindle US | Kindle Worldwide | iBooks | Nook | Kobo | Smashwords
SECRETS CAN BE DEADLY: Four bestselling novelists — Three full-length novels packed full of juicy secrets!
Uncover what happens when an amateur sleuth who specializes in uncovering other people′s secrets has to keep one — a big one — of his own in L. L. Bartlett's Room at the Inn.
Discover the secret mission — one that could get her killed — keeping Morgan Kirkwood from being focused on going for the gold at the Olympics in Shirley Hailstock's More than Gold.
Find out the shocking secret behind one duke′s refusal to make love to the wife he desires in Kelly McClymer′s The Fairy Tale Bride.
---
Are you ready for the holidays?
Christmas has the power to bring people together…families, friends, and especially lovers. A Very Romantic Christmas reaches across time and space to remind us that the holidays are about love and connection. Settle in with a plate of Christmas cookies and some hot tea, tune to a carol-only radio station, and indulge in this holiday treat. No matter what the weather, this collection will transport you into the very heart of the season.
Kindle US | Kindle Worldwide | iBooks | Kobo | Nook | Smashwords