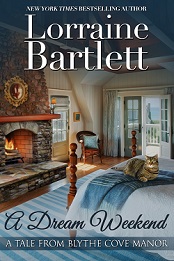 A Tale From Blythe Cove Manor #1
(originally titled Sweet Dreams)
Serious life changes have pushed Paige and Alex Campbell to the brink of divorce.  Still, they win a weekend at lovely Blythe Cove Manor and experience vivid dreams that take them back in time. Is there a chance this magical place inspires the nighttime fantasies that could help them fall in love again?
Available from:
Kindle US | Kindle UK | Apple Books
Kobo | Nook | Smashwords  | Google Play
---
What Amazon Readers are saying about A DREAM WEEKEND …
"For a short story, this book was jam packed with emotion. I was immediately taken with this couple. I hoped they could find their happily-ever-after. They are two torn souls who happen to be the perfect fit together, even if they don't realize it."
–Socrates Book Reviews
"While I have read many of Lorraine Bartlett's cozy mysteries, "A Dream Weekend (A Tale from Blythe Cove Manor)" is the first non-mystery by her that I have read and I wasn't quite sure what to expect but I was pleasantly surprised. This is a short story but in just a few pages Bartlett manages to fully draw a portrait of a couple who were once deeply in love but have been torn apart by tragedy – in those few pages you will come to know and root for Paige and Alex. Their story is full of love, joy, sadness, and hope. Mixed in with this is just the slightest hint of magic – well done by Bartlett."
–Drebbles (vine voice)
"It is without saying that a good author can certainly catch your attention and keep it. I stayed up last night to read this story until about 2am as I could not put it down once I started reading. A Very Good Read."
–Avid Mystery Reader
"Definitely worth reading. It will bring both tears and smiles. It's one of those that touches you deeply."
–Kindle Customer
---
Watch the book trailer for A DREAM WEEKEND!