Blythe Cove Manor is a lovely–and truly magical–bed and breakfast located on beautiful Martha's Vineyard, Massachusetts. Meet its proprietress, Blythe Calvert and her tabby cat, Martha, and the guests who visit this lovely home.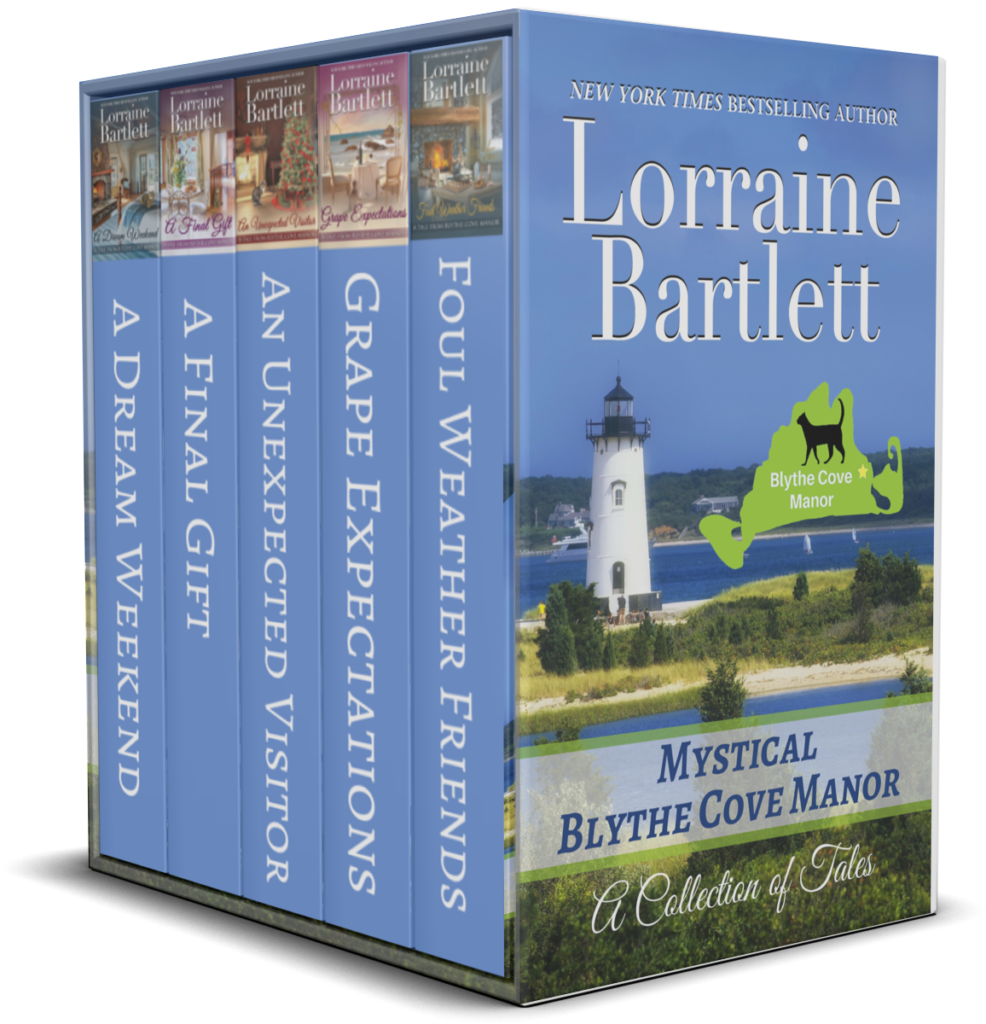 This collection includes five Tales From Blythe Cove Manor.
A DREAM WEEKEND: A couple's troubled marriage is about to end unless the magic of Blythe Cove Manor can save them.
A FINAL GIFT: Can anything heal the pain of a grieving daughter?
AN UNEXPECTED VISITOR: Blythe Calvert anticipates a peaceful weekend until a taxi pulls up and drops off a troubled, runaway teen.
GRAPE EXPECTATIONS: A young heiress arrives on Martha's Vineyard with an agenda to taste its great wines … only to find there are none.
FOUL WEATHER FRIENDS: A young woman finds herself stranded on the island during a nor'easter. Can two strangers help her find a new life path?

Amazon | Barnes & Noble | Books A Million | Bookshop.org
Kindle | Nook | Apple Books | Kobo  | Google Play
From Amazon Readers:
"A collection of sweet, heart-warming stories that all take place at the fictional, perhaps even magical, Blythe Cove Manor. There are several recipes included in the book as well." — Amanda B.
"Each guest has different needs or dreams which they are able to face or come to terms with while staying at the B&B." — Kim T.
"Bartlett's descriptive writing style helps you to smell the wonderful aromas coming from Blythe's amazing kitchen and see the beautiful manor. I just cant say enough about this wonderful series. Love, love, love it!" –J. Daniels
"Each short tells about a visitor to the lovely Inn and the journey they take while there. Some may not realize they need the getaway but by the end the mystical properties of the inn have worked their magic." –Taryn L.
"Take a magical trip to Blythe Cove Manor and fall in love with the scenery, smell the ocean, and all the wonderful aromas coming from Blythe's amazing kitchen!" — Sonny's Mom