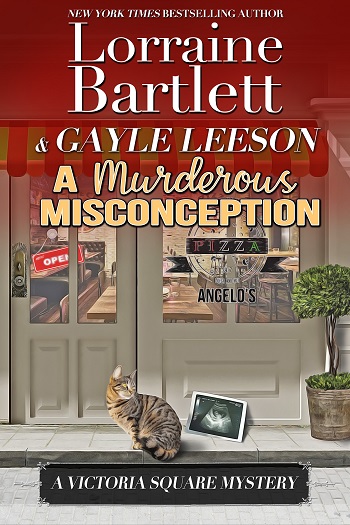 A MURDEROUS MISCONCEPTION
Victoria Square Mystery #7
by Lorraine Bartlett and Gayle Leeson
Katie Bonner loses her lunch—literally—when her social media account serves up a shocking announcement. Her boyfriend Andy's assistant manager, Erikka, is pregnant, and apparently with his child. And when Erikka turns up dead, the Sheriff turns up the heat on Katie and Andy, certain that one of them is to blame. But Erikka wasn't pregnant after all. Was Erikka's misconception the only way she could conceive of stealing Andy from Katie?
When Katie finds planted evidence, it's her friend and former detective, Ray, who insists on concealing it. Is it his growing affection for her that causes him to act against his training and code of ethics, or could he be responsible for Erikka's death? Katie is afraid to find out.
Kindle US | Nook | Kobo | Apple Books
Google Play | Smashwords
Trade Paperback:  Amazon | Barnes & Noble | Books A Million | Bookshop.org
Large Print: 
Amazon | Barnes & Noble | Books A Million | Bookshop.org | Book Depository

"What an opening chapter to make you sink your teeth in this inviting story. Katie's life is about to hit a roadblock and nothing could make me put this book down until all was said and done.
"A page-turner with strategically placed twists."
–Dru's Book Musings
"A must-read for fans of this series! Filled with twists, red herrings, and suspects. Ms. Bartlett and Ms. Lesson have created an extraordinary cast of characters. This book is strong and very intense in sections. It will grab your attention and hold on tight.  A Murderous Misconception is an excellent addition to a series I already loved. It is also a Perfect Escape!"
— Escape with Dollycas into a Good Book
"Intriguing . . . a woman finds out her rival is pregnant with her boyfriend's baby; that's enough to make anyone commit murder, but did she? You'll have to read the book to find out!"
— Tea Cottage Mysteries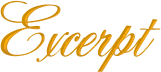 Katie sat back in her chair in her Artisans Alley office and munched on a hard peppermint from the jar she kept on her desk. Delighted to have a few minutes of free time, she decided to check social media. In particular, she wanted to post about the upcoming Harvest Festival to get some buzz going among McKinlay Mill shoppers.
She opened her Instagram feed, and the first thing she saw caused a cold fist of dread to encircle her heart, squeezing until she felt breathless. It was Erikka Wiley, Andy's assistant manager at Angelo's Pizzeria…lovely Erikka, with her luscious waves of dark brown hair, who Andy had driven home from work one evening not so long ago shortly after he and Katie had argued. Andy had sworn to Katie that nothing had happened between them. But here Erikka was holding a sonogram photo with the caption, "It's a boy! I hope he has big, brown eyes just like his handsome Daddy!"
Katie threw up in the trash can beside her desk.
After a few minutes, Katie recovered enough to go to the bathroom, wash her face, and get some water. She wasn't watching where she was going, and she nearly ran headlong into Rose Nash. Rose, a spunky seventy-something jewelry vendor, also happened to be one of Katie's closest friends. She was also far too observant to suit Katie that morning.
Rose grasped Katie by the shoulders. "Are you all right? Sweetheart, you're shaking like a leaf! What's wrong?"
"I'm feeling a little sick this morning," Katie said. "I…I guess I ate something that didn't agree with me."
"Oh, I was sick like that once." Rose hugged Katie. "It took me about nine months to recover."
Katie backed out of her friend's embrace. "No! No, it's not that, I assure you." How utterly mortifying that Rose—rather gleefully—thought it was Katie who was pregnant.    The poor woman couldn't be farther off the mark.
But Katie couldn't tell Rose that. She couldn't tell her—or anyone—what she'd seen that had upset her so badly…not until after she'd spoken with Andy.
"I'm going to step out for a few minutes," Katie told Rose.
Rose smiled. "A breath of fresh air will do you good. Maybe you should go to the drug store while you're out and pick up a test…you know, just to be sure."
Katie ignored her friend's suggestion. "Please tell Vance to call me if he needs me."
Vance Ingram was not only a vendor at Artisans Alley, but he was also Katie's invaluable second-in-command.
"Oh, don't forget about Mr. Brady," Rose said.
At Katie's blank expression, she elaborated.
"You told me to remind you to see Mr. Brady about his past-due rent today." Rose looked at her watch. "And you should probably try to catch him before he slips out. I don't know why he even keeps a studio. He certainly doesn't spend a lot of time there."
"He's not going to have one if he doesn't start paying his rent," Katie said.
She was fed up with Matt Brady, the thirty-eight-year-old photographer who was habitually late with his payments. Katie had to physically track the man down every single month. It was time for him to shape up or find a studio elsewhere. She'd had to turn away several businesses whose owners would love to have his space for Katie to have to jump through hoops every month to get paid the rent she was owed.
As soon as she got the bag from her trash can and put it into the dumpster out back, she'd find Brady and then she'd go talk to Andy.
They had a lot to talk about.
---
Get your copy now!
Kindle US | Nook | Kobo | Apple Books
Google Play | Smashwords
Trade Paperback:  Amazon | Barnes & Noble | Books A Million | Bookshop.org