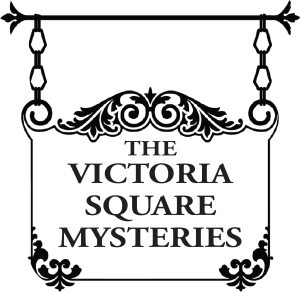 Don't miss out on the companion series…
Life On Victoria Square

Click on the cover or title for excerpt and purchase links.
DEAD MAN'S HAND
Victoria Square #8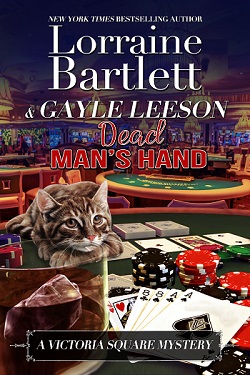 Katie Bonner's business in on the line after her friend Jamie is poisoned at her tea shop. First she must locate the mysterious woman he was dining with, and next she must go undercover at a nearby poker club where Jamie won big a week before. It seems everyone there might have had a motive to rub Jamie out…and if they learn Katie has been lying to them, she might be next!
Click the cover for more information.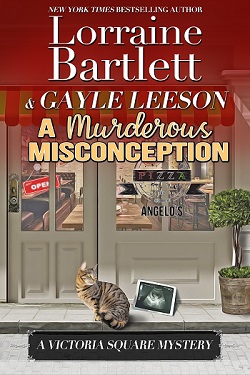 Katie Bonner loses her lunch—literally—when her social media account serves up a shocking announcement. Her boyfriend Andy's assistant manager, Erikka, is pregnant, and apparently with his child. And when Erikka turns up dead, the Sheriff turns up the heat on Katie and Andy, certain that one of them is to blame. But Erikka wasn't pregnant after all. Was Erikka's misconception the only way she could conceive of stealing Andy from Katie?
When Katie finds planted evidence, it's her friend and former detective, Ray, who insists on concealing it. Is it his growing affection for her that causes him to act against his training and code of ethics, or could he be responsible for Erikka's death? Katie is afraid to find out.
(Click the cover for more information.)
A tattoo parlor on Victoria Square? Some of the merchants get hot under the collar at the proposal, but could they be driven to kill to stop it? That's what the sheriff's office and Katie Bonner want to know when the building's owner is electrocuted with his own saw.
Meanwhile, tensions rise when a hot chef takes over the square's tea shop. Will Katie have three men vying for her affections, or will her rival take the tea cake?
---
Yule Be Dead
Victoria Square #5
It's Christmastime, but not everyone is jolly–especially not Vonne Barnett. Her dead body has been found near Victoria Square. Katie Bonner, the manager of Artisan's Alley, happens to be at the tea shop Vonne's mother, Francine, owns when the news is delivered.
Vonne left a trail of men behind her so the suspects are many–but the clues are few. A broken teacup leads Katie to one of the suspects, but before she can investigate, she's attacked. Katie may be closing in on a murderer, but time is ticking because the murderer is definitely closing in on her.
---
Dead, Bath and Beyond
Victoria Square Mystery #4
Katie Bonner feels like nothing can spoil her perfect day off, sailing Lake Ontario with her good friend, lawyer Seth Lander. Then she runs into her ex-boss Jake on the dock. It was never smooth sailing with Jake, and Katie is only too happy to get away from him as he makes a scene.
Unfortunately, the next day her unpleasant former employer is found drowned in a bathtub at a bed and breakfast in Victoria Square. Who would pull the plug on Jake? When an autopsy reveals lake water not bath water in his lungs, Katie quickly finds herself in over her head. She ll need to race to find the killer before her business and her freedom both go down the drain…"
---
 One Hot Murder Victoria Square Mystery #3
Katie Bonner, the reluctant manager of Artisans Alley in the quaint shopping district of Victoria Square, is no stranger to ambivalence. Things have been going hot and heavy with pizza maker Andy Rust—so much so that Katie has moved in over his pizza parlor. But now that summer's ushered in a heat wave, an apartment above pizza ovens without an air conditioner is making Katie hot and bothered.
At the height of the heat wave, a tragic fire strikes Victoria Square. Wood U, a small store selling wooden gifts and small furniture, is destroyed. But the fire may just be a smokescreen—for murder. Because a body is found among the charred wreckage—and the victim didn't die from smoke inhalation. He was shot. Now—despite making Detective Ray Davenport hot under the collar—Katie is determined to smoke out a cold-hearted killer…
---
The Walled Flower Victoria Square Mystery #2
If Katie Bonner's late husband hadn't invested all their savings in the craft fair Artisans Alley—which Katie is now responsible for keeping in the black—the Webster mansion could have been hers to remodel. For years she dreamed of renovating the old place on Victoria Square into a bed and breakfast. Now that dream belongs to another young couple. But their dream becomes a nightmare when a skeleton is discovered, sealed in one of the walls of the mansion. The bones belong to Heather Winston, who went missing twenty-two years ago. Her aunt is Rose Nash, a jewelry vendor at Artisans Alley, who is determined to find her niece's murderer, and asks for Katie's help to do it. The case may be cold, but the killer is very much alive—and ready to go to any lengths to keep past secrets buried…
---
A Crafty Killing Victoria Square Mystery #1
The last thing Katie Bonner wanted was to become the manager of Artisans Alley. But when her business partner, Ezra Hilton, is found bludgeoned to death, she has no other choice. Business under Ezra has been faltering-but was it enough to provoke someone to murder? Only Kate can find the answer.
---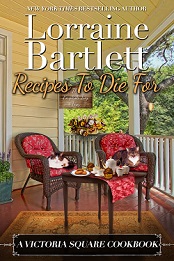 Recipes to Die For A Victoria Square Cookbook
Katie Bonner and the rest of the locals from Victoria Square invite you into their kitchens to share tantalizing recipes and intimate stories about food, family, and life. So tie on your apron and sharpen your knives, because Recipes To Die For is chock full of culinary treasures such as Andy Rust's Cinnamon Rolls, Vance Ingram's Barbecued Ribs, and Sweet Sue's Toffee Squares. And you don't want to miss Aunt Lizzie's Cream Scones. They're to die for!
Don't miss the companion series ….

Click this link for more information!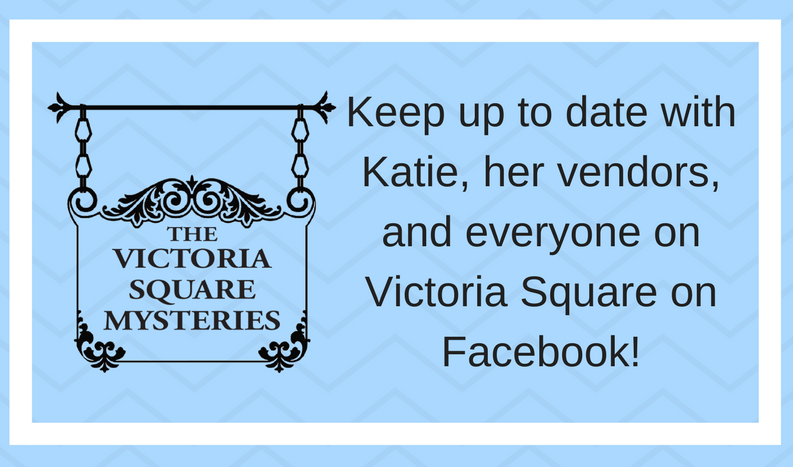 Lorraine also writes the New York Times bestselling Booktown Mysteries as Lorna Barrett, and the Jeff Resnick Mysteries as L.L. Bartlett.
Visit Lorraine's alter-ego page.