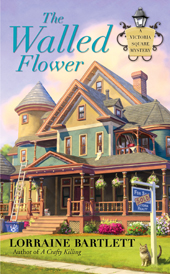 THE WALLED FLOWER
In Print
Amazon | Barnes & Noble | Books A Million
Chapters/Indigo | Bookshop.org
And as E Books:
Kindle ~ Nook ~  Kobo ~ Apple Books ~ Google Play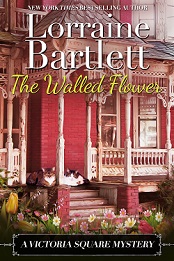 FINALLY AVAILABLE in the UK, Australia, New Zealand, and Ireland
Kobo:  UK |  Australia  |  New Zealand  | Ireland
Audible | Amazon | iTunes | Tantor Media (CDs)
Murder Is Right Up Her Alley …
If Katie Bonner's late husband hadn't invested all their savings in the craft fair Artisans Alley—which Katie is now responsible for keeping in the black—the Webster mansion could have been hers to remodel. For years she dreamed of renovating the old place on Victoria Square into a bed and breakfast. Now that dream belongs to another young couple.
But their dream becomes a nightmare when a skeleton is discovered, sealed in one of the walls of the mansion. The bones belong to Heather Winston, who went missing twenty-two years ago. Her aunt is Rose Nash, a jewelry vendor at Artisans Alley, who is determined to find her niece's murderer, and asks for Katie's help to do it. The case may be cold, but the killer is very much alive—and ready to go to any lengths to keep past secrets buried…
THE WALLED FLOWER came roaring out of the gate and hit the New York Times Best Sellers List for Mass Market Paperbacks at #25.

"With the many twists and turns in this mystery it wasn't going to be easy to find out whodunit, especially since the murderer was still on the loose after twenty-two years. Bartlett is getting into her stride early in this series, one that will knock the reader's knitted socks off when they read about Katie Bonner's latest foray into murder, madness, mystery, and mayhem in Artisans Alley. This mystery is over-the-top and (almost literally) off the wall fantastic." –The Feathered Quill
"Not surprisingly, Bartlett skillfully orchestrates an intricate plot that keeps readers in suspense until the end." –-Mystery Scene Magazine
"There's a good balance of dialogue and description to move the story along, plus realistic side stories involving the collection of nicely varied–and likable–characters. Recipes for the backed goods Katie makes as treats for her artisans are included."
—Booklist
"A highly enjoyable book. I have come to enjoy the writing of Lorraine Bartlett, and this series is very creatively done. I like the setting of the series and the details found in it. The conclusion was creative and well-written too. Five stars!"
–Fangirl Nation
"I highly recommend this exciting, fast-paced cozy mystery to those who enjoy confounding mysteries and cold cases."
–Open Book Society
"A co-op of artisans, one disgruntled artist, and a desperate artifice – the perfect canvas for murder. Lorraine Bartlett's characters come alive in this tightly crafted, suspenseful plot that grips the reader's attention right up to the satisfying conclusion. —Kate Collins, author of Dirty Rotten Tendrils and the rest of The Flower Shop Mysteries
"Ms. Bartlett has established a plucky, intelligent heroine in Kate Bonner and has surrounded her with a cast of fascinating multi-dimensional characters. Victoria Square is memorable right from the first–a place in which charming shops, vintage treasures, and hidden secrets coexist. I cannot wait for the next installment in the Victoria Square series!"
—Ellery Adams, author of A Killer Plot the Books By The Bay Mysteries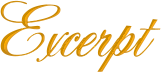 Katie recognized Rose's tiny red Mini Cooper as soon as she drove into the Square's parking lot the next morning. She parked her white Focus and sorted through her collection of keys, then picked up her unread newspaper before getting out to open Artisans Alley's vendor entrance.
"Rose, what are you doing here so early?" Katie called.
Impeccably dressed, as always, in a tailored polyester suit coat and slacks, apricot today, with a rope of amber beads dangling down her white-bloused front, Rose was the epitome of determination. She held a large flat book in one arm, and a shoe box tucked like a football under the other.
"I'm here so we can start working on Heather's case. Where do we begin?"
Katie paused, brass key hovering near the lock, and her heart sank as she read a note taped to the door: She's at it again. Katie recognized the handwriting. She looked back at Rose. "What did you say?"
"Heather's case," she said impatiently.
"Oh, well . . . I haven't decided on an approach. Let's make some coffee and talk," she said to stall.
Katie unlocked the door and entered the ante/storeroom, disarming the security system before venturing into Artisans Alley's main showroom.
Six months before, the artisans arcade's cavernous main hub had been a depressing sea of dark Masonite pegboard. Katie hit the main light switch and the room came alive with beautiful displays of sparkling blown-glass goblets, vases and bowls on a backdrop of dainty floral wallpaper, Victorian inspired stained glass windows, cards made of handmade papers, and too much else to take in at one glance. Every day a crowd of vendors came in, changing their displays, making a walk through the aisles like a treasure hunt.
Rose headed straight for the vendors' lounge and its commercial coffee pot. That room, too, had recently undergone a total transformation. Gone were the woppyjawed wooden table and chairs, replaced by a chrome and red Formica table for ten (complete with two leaves), straight out of the 1950s. The vendors had pitched in to paint and decorate the lounge to look like a Happy Days set, with appropriate 1950s kitsch for accent.
Katie went straight to her office, where she set the note down. She'd deal with it later. She stowed her purse in her desk drawer and opened the safe. She counted out the money for the tills, shut and locked it, then headed for the cash registers, placing cash in each drawer. Register two needed more quarters, she noted. She'd bring them up later. By the time she made her way to the back of the store, she could smell coffee brewing.
"There's some apple Danish in the fridge. Do you want a piece?" Rose called out.
"No, thanks. Just coffee," Katie said, and took a seat at the table.
Rose had already assembled two legal pads, pencils and pens, along with the mysterious shoe box. She plunked a steaming mug down before Katie and took a seat on the opposite side of the table.
"Looks like you've made a good start," Katie said indicating the notes on one of the pads.
"I spent last evening writing lists and gathering some of Heather's things. This box," she said, removing the lid, "has pictures and certificates, things a young girl keeps." She pushed it toward Katie.
Katie peered inside, flipping through the assorted odds and ends. She withdrew several photos of Heather and a shaggy-haired, bearded young man.
"That's Heather and her boyfriend, Jeremy Richards. They went together for almost a year before she disappeared."
Katie replaced the photos, reaching for the creamer. "Is that a high school yearbook?" she said, indicating the tome by Rose's elbow.
Rose nodded. "From Heather's senior year. Some of her classmates still live in McKinlay Mill." Her gaze drifted. "Most of them got married and had families. I want to find the bastard who cheated Heather out of her future," she said, her voice hardening.
Katie wasn't sure how to comfort the old woman. Finally, she said, "What we need to do is backtrack Heather's last days. That'll mean locating the people she knew, which could take time—a very long time."
"I'll do whatever it takes," Rose said, determination once again entering her voice.
"Who was her best friend?" Katie said, and took a sip of coffee.
"Barbie Jackson." Rose opened the yearbook, flipping pages until she came to a shot of the McKinlay Mill High School cheerleading squad. She pointed to the only brunette in a sea of bleached blondes. "That's Barbie. They were inseparable as children, but I don't think they were quite as close by the time Heather disappeared. But then, I only knew this secondhand from Heather's mother."
"Seems like finding Barbie would be a good place to start."
"I'm pretty sure she married Joe Gordon. They live somewhere on the outskirts of town. I'll look in the phone book. If she'll talk to me, will you go with me to see her?"
"Of course. I've got an errand of my own to run this afternoon. If Vance will take over here, maybe we can combine them."
"Are you going apartment hunting?" Rose asked.
Katie nodded.
"Why doesn't Andy just let you live above his shop?"
"That's a good question." Katie took another sip of coffee. "I don't suppose you've heard from Detective Davenport."
"He never even took down my phone number," Rose groused.
Katie shook her head. Davenport had been just as close-mouthed during Ezra Hilton's murder investigation. Either he was the laziest detective on the planet or the shrewdest, letting others solve all his cases—and no doubt taking the credit. Katie's successful efforts to find Ezra's murderer had never made it into the newspaper or other media accounts. In retrospect, she'd preferred it that way.
Rose stirred more sugar into her coffee. "I saw Polly's note on the door. She isn't picking on Edie again, is she?"
"I'm afraid so," Katie said.
"Edie wouldn't steal," Rose declared.
Edie Silver was the first of the low-end crafters to rent space in Artisans Alley after Katie had taken over as manager. She'd convinced Katie that her type of crafts—dishtowels with crocheted hangers, silk flowers, and the like—could bring in customers, and she'd been right. Since admitting Edie and her friends, Artisans Alley was averaging twenty percent higher sales per week. That average had shot up to fifty percent during the holiday buying season. But fine-arts craftsmen (and women) vendors like Polly Bremerton were averse to change, and opening Artisans Alley to the low end of the spectrum was still a bitter pill. Still, Polly's creations were dolls made with molded bisque heads, arms and legs, with stuffed and sewn bodies, not masterpieces on canvas.
"I agree," Katie said. "Under normal circumstances Edie would never take anything that didn't belong to her. But she might if she had Alzheimer's disease."
Rose's eyes widened with indignation. "Don't tell me Polly's spreading that vicious, ugly rumor?"
"She hinted that might be Edie's problem."
"Edie was confused when her doctor changed her medication back in January. Now she's fine. And she has never taken anything that didn't belong to her."
Katie nodded. "Shoplifting has increased dramatically in the past few months."
"That's because we have more customers than we ever had before. Every retail establishment has to deal with it."
"I know. But as manager, I'm the one who has to address it."
Rose straightened. "You're not going to confront Edie based on one person's accusations, are you?"
Katie shook her head. "Of course not. Not without proof, and so far Polly hasn't given me any." She rose from the table. "If you want to use the phone in my office to make your calls, you're welcome to."
"Thank you, Katie." Picking up her coffee cup, Rose headed for the eight-by-ten-foot room that comprised Katie's workspace. It would be cramped quarters for a few days until Rose realized just how fruitless the search for her niece's killer would be. Somehow she'd find the patience to stand the intrusion.
Katie lingered over her coffee and picked up the newspaper. Heather's murder was, of course, the top story. Inevitably, Ezra's murder the year before was mentioned as well. The McKinlay Mill Chamber of Commerce would no doubt see this as a public relations dilemma.
Katie's frown deepened as she scanned the story.
An unnamed source indicated the body was entombed before death.
Katie's ire flared. Detective Davenport's assertion that Heather was dead when entombed didn't match what Katie had seen for herself at the mansion. There'd been holes in the plastic where Heather's hand would have been. Grooves were dug into the drywall that had been removed from the studs. How long had Heather clawed at the drywall in a futile effort to escape before she'd suffocated—or more likely died of a seizure? Either way, it had been pure stupidity for Davenport to lie to Rose. Katie hadn't figured the detective was that dumb. Had he actually been trying to show Rose some compassion? That stab at courtesy was bound to blow up in his face when Rose learned the truth.
Katie folded that section of the paper, tossing it aside and opening the local section. The headline read: Famed UR alumni sponsors hi-tech studio. She skimmed the local boy makes good—remembers his roots—story. Well good for him.
She studied the stock-shot handsome, lightly lined face. Gray laced the man's hair and the close-cropped beard, reminding her of a younger Sean Connery. Hot stuff. Maybe she should try to convince Andy to grow a beard He'd make a fine Jack Sparrow wannabe.
Nah. He'd never go for it.
Glancing at her watch, Katie decided it was time to get to work. She folded the newspaper and tossed it into the recycle bin. Rose would eventually learn the truth about Heather's death, but Katie vowed she'd do her best to keep it from her until she figured out a way to break the bad news gently. That would take some creativity, and right now she didn't feel up to it. The question was, how long could she stall, and would Rose be angry with her, too?
She'd have to risk it—and suffer the consequences either way.

In Print
Amazon | Barnes & Noble | Books A Million
Chapters/Indigo | Bookshop.org
(As E Books)
Kindle US ~ Google ~  Nook ~ Kobo ~ Apple Books
Available In audio
Audible | Amazon | iTunes | Kobo | B&N Audio |
Don't miss the companion book: Recipes to Die For (A Victoria Square Cookbook)
---
Did you ever wonder how where the various businesses are located on Victoria Square? Check out the maps page.