Introducing

A Companion Series to the Victoria Square Mysteries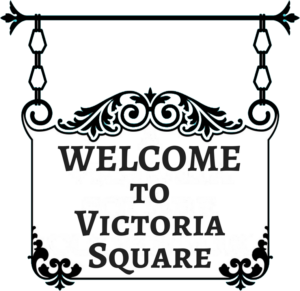 Victoria Square is home to a number of eclectic enterprises, anchored by Artisans Alley. Need a gift for family, friends or a special occasion? Visit Gilda's Gift Baskets and Wood U. Something sweet to eat? Visit Tanner's Bakery and Cafe, Sweet Sue's Confectionery, or Booth's Jellies and Jams. Have tea at the Square's tea shoppe, Tealicious, and get your quilting needs at the Quiet Quilter. You can even stay  the night (or two) at Sassy Sally's Bed and Breakfast. Through this series of stories, you'll get to know the merchants on the Square and learn about the lives they lead.
I hope you'll enjoy Life On Victoria Square!
---
LIFE ON VICTORIA SQUARE #8  — COMING APRIL 17th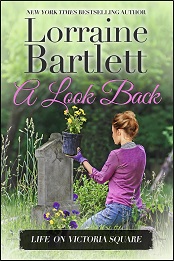 On the anniversary of her great Aunt Lizzie's death, Katie Bonner reflects on the course of events that led her to be the custodian of Artisan's Alley–from the moment her husband took their savings and invested it in a dying business to the death of its founder, Ezra Hilton. And it's with tears of sadness and joy that Katie contemplates her uncertain future.
This story takes place just before the events in the Victoria Square Mystery (#7) A Murderous Misconception but may be read as a stand-alone introduction to the series.
Kindle US | Kindle Worldwide | Nook | Kobo | Apple Books | Google Play | Smashwords
Watch the video booktrailer!
---
LIFE ON VICTORIA SQUARE (Volume I)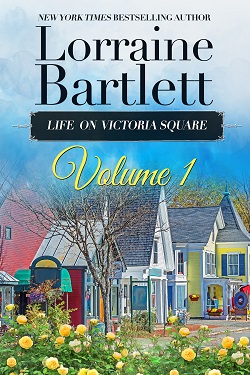 Now you can get the first six Life On Victoria Square stories in one volume in both print and ebook formats.
Contains
Carving Out A Path: A shoplifter learns a lesson about life and integrity.
A Basket Full of Bargains: Iris Drake is a strange duck with a secret.
The Broken Teacup: Katie Bonner receives a broken teacup in the mail–but it's a mystery who sent it.
It's Tutu Much: Bullies come in all sizes and ages. Can a dance class teach kids–and adults–how to get along?
The Reluctant Bride: Does a bride-to-be really want to get married?
Tea'd Off: The Square's new tea shop is about to open, but not without problems.
Amazon | Barnes & Noble | Books A Million | IndieBound
Chapters/Indigo | Book Depository (free shipping worldwide)
Kindle US | Kindle Worldwide | Nook | Apple Books | Kobo | Google Play
---
The first story in the series, is …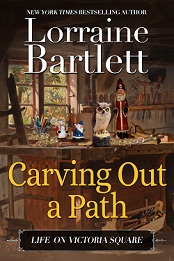 CARVING OUT A PATH
A young shoplifter not only swipes a couple of hand-carved figurines from Ray Davenport, owner of Victoria Square's Wood U gift shop, but barrels into and injures Katie Bonner, manager of Artisans Alley. Upon his escape, the police are called, but before the ink is dry on the report, the boy's grandmother drags the would-be thief back to return the purloined items. She's got an agenda and great expectations?  Can Ray come through in a pinch?

Kindle US  |  Kindle Worldwide  |  Nook  |  Kobo  |  Apple Books  | Smashwords | Google Play

The story behind the story …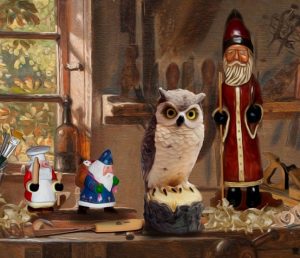 My father, Len Bartlett, was a jack of all trades. Literally. He was known as a "fitter," and got his training at the Royal Dockyard in Portsmouth, England. When he came to the US, he found similar work, but also had side jobs. One of them was framing houses, which would come in very handy when he added rooms onto our home, family cottage, and he gutted and rebuilt my first house. He had lots of hobbies, too. He made jewelry, fixed watches and clocks, and in his later years he took up carving. (Santas were his specialty.)
I love the cover for Carving Out A Path, which was done by Wicked Smart Designs. In it, the designer was able to incorporate three of my father's wood carvings. The tall Santa even won an award from a prestigious contest in Berea, KY  One of Dad's carving buddies moved to KY from Western NY and wanted to make the same design, but he needed to actually see the finished project. So my father mailed the Santa to him, not knowing that it would be entered in the contest. So imagine my Dad's surprise when the carving arrived back home with that first place ribbon!
I own more than 100 of my Dad's carvings, and I enjoy looking at them every day. I hope you enjoy the three Santas on the cover.
                                            WATCH THE BOOK TRAILER!
---
Now Available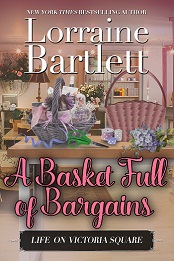 #2 A BASKET FULL OF BARGAINS
Iris Drake is an odd duck. She knows everyone at Artisans Alley arts-and-crafts arcade, but nobody knows her. When she walks into Gilda's Gourmet Baskets on Victoria Square, she's a stranger there, too—but not for long. Yet she hasn't to come to Gilda to buy her wares—she's there to sell some of her own. All goes well until Iris's secret is exposed. Should Gilda step in to make things right, or walk away from an unpleasant situation?
Pre-order From:
Kindle | Kindle Worldwide | Apple Books | Nook | Kobo | Smashwords | Google Play
                                                     WATCH THE BOOK TRAILER!


---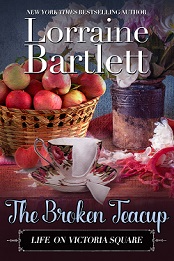 #3 THE BROKEN TEACUP
Katie Bonner needs a pick-me-up one cold and gloomy fall day, and the US Mail delivers—literally. A mysterious package arrives at Artisans Alley with her name on it, but the return address is obscured and the treasure inside, a beautiful bone china teacup, is broken. Before Katie can open the accompanying card, she's called away and one of the vendors mistakes the package for trash. Katie makes a quick rescue, but the card is gone. Who sent the cup? What is its significance? Can Katie solve this mini mystery?
Order from:
Kindle | Kindle Worldwide | Nook | Apple Books | Kobo | Smashwords | Google Play
                                          WATCH THE BOOK TRAILER!
---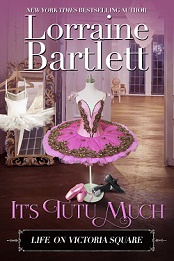 #4 IT'S TUTU MUCH
Bullies come in all shapes, sizes, and ages. Dana Milton finally opens her own dance studio on Victoria Square and one of her Broadway Babies (age 8) is a classic tyrant. Can she teach her students about respect for one another—and when it's time to stand up for oneself, or is it all tutu much?
Order from
Kindle US | Kindle Worldwide | Nook | Apple Books | Kobo | Smashwords | Google Play
Watch the video
Did you ever wonder how where the various businesses are located on Victoria Square?  Check out the maps page.
---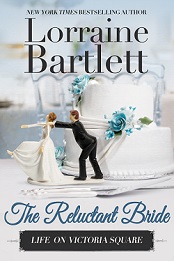 # 5 THE RELUCTANT BRIDE
Don Parsons and Nick Ferrell bought a ramshackle Victoria spinster and plan to transform her into a Painted Lady. Weddings and other parties are a part of their business plan. They'll be hosting a small ceremony and reception for bride-to-be Lauren Washborne … except she doesn't seem all that enthusiastic about her upcoming nuptials. Don wants to know why—but Nick is against the idea. Will Lauren have a chance to live happily ever after, or will her suitor be left at the altar?
Kindle || Kindle Worldwide || Nook || Apple Books || Kobo || Smashwords || Google Play
Watch The Video
---
Now Available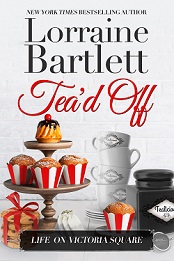 #6 TEA'D OFF
With the grand relaunch of Victoria Square's tea shop, Tealicious, just days away, Nona Fiske decides it's time to sabotage it and its owner, Katie Bonner. With gossip, innuendo, and outright lies, Nona tries to turn the other merchants on the Square against Katie. But Katie has learned how to deal with people like Nona. Can she kill with kindness?
This story takes place between the Victoria Square mystery novels Yule Be Dead and Killer Ink.
Kindle US | Kindle Worldwide | Nook | Kobo | Apple Books | Google Play | Smashwords
 WATCH THE VIDEO