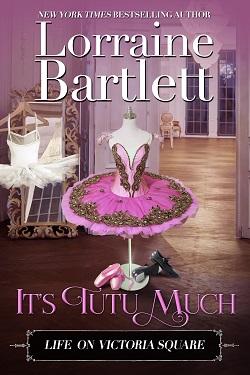 Life On Victoria Square #4
Bullies come in all shapes, sizes, and ages.
Dana Milton finally opens her own dance studio on Victoria Square and one of her Broadway Babies (age 8) is a classic tyrant. Can she teach her students about respect for one another—and when it's time to stand up for oneself, or is it all tutu much?
Order from
Kindle US | Nook | Apple Books | Kobo | Smashwords | Google Play
What readers are saying on Amazon…
"As a former teacher, It's Tutu Much really resonated with me. The theme is bullying, and Lorraine Bartlett certainly portrays the interactions among the young dance students in a realistic and sympathetic way. I love the Life on Victoria Square books, and I hope to see the characters from this book pop up in the full length, Victoria Square Mystery series. "  –Barbara W.

"I love how Lorraine Bartlett delves into dealing with a difficult situation. This is a heartfelt story about kids and respecting yourself and others. This story works for kids and adults." –Debra L.
"This book is not what I expected. After reading it, MY heart is full. I think every girl, young lady, woman needs to read this. Ms. Bartlett, you definitely taught me a lesson and when it comes to your books…..break a leg." –Amazon Reader
"I really enjoyed this light lesson. I will definitely have my granddaughters read this short story. Stick up for yourselves. You are worth it." –Mama Rio

Watch the video
Did you ever wonder where the various businesses are located on Victoria Square?  Check out the maps page.