DEAD, BATH and BEYOND
Rub A Dub Dub–Dead Man In The Tub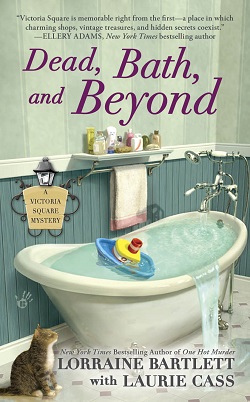 Katie Bonner–owner of Artisans Ally in the quaint shopping district of Victoria Square–feels like nothing can spoil her perfect day off, sailing Lake Ontario with her good friend, lawyer Seth Landers. Then she runs into her ex-boss Jake on the Dock. It was never smooth sailing with Jake, and Katie is only too happy to get away from him as he makes a scene.
Unfortunately, the next day her unpleasant former employer is found drowned in a bathtub at a bed and breakfast on Victoria Square. Who would pull the plug on Jake? Katie quickly finds herself in over her head. She'll need to race to find the killer before her business and her freedom go down the drain!

 Paperback:  Amazon | Barnes & Noble | Books A Million | Chapters | Bookshop.org
Ebook:  Kindle US | Apple Books | Kobo | Nook
On Audio:  Audible | Amazon | iTunes | Tantor Media (on CD)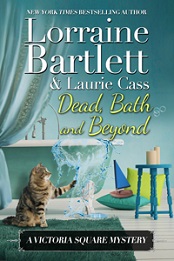 For those of you in the UK, AU, IE, and NZ — look for this cover and these links!
The UK & Ireland:  Kindle | Apple Books UK | Kobo
Australia & New Zealand:  Kindle | Apple Books AU | Apple Books NZ |  Kobo
Watch the Book Trailer!

"Intriguing twists and turns change the perception of the murder, and demonstrates Katie's intuitive and logic skills. The layers of mystery surrounding Josh are challenging, something that only someone such as Katie, with her insurance experience, could work her way through. But was his murder a result of his business or his family troubles? Suspense gives way to teeth-clenching fear before the stunning resolution occurs. 'Dead, Bath and Beyond' is a not-to-be missed cozy mystery; highly recommended."
–Open Book Society
"The mystery was fascinating while allowing time for attention to all the other details."
–Fan Girl Nation
"The plot and writing style of the two authors is awesome! I can't say enough positives about this series. There are intriguing twists and turns that change the perception of the murder, and demonstrates Katie's intuitive and logic skills. Her pets with their very own cat-sonalities make her apartment over the pizzeria a warm. whimsical happy-place. The layers of mystery surrounding Josh are challenging, something that only someone such as Katie, with her insurance experience, could work their way through. But was his murder a result of his business or his family troubles? Suspense gives way to teeth-clenching fear before the stunning resolution occurs. 'Dead, Bath and Beyond' is a not-to-be missed cozy mystery; Highly recommended."
–Open Book Society
"With the mystery building and building, the whodunit reveal comes in an action-packed ending that had me holding my breath."
–Lisa K's Book Reviews
"Katie really has started her life over, found some solid footing after fate dealt her a terrible hand, and even gets a moment of revenge! Unfortunately shortly after that small victory an untimely death throws another mystery in her lap, one that could have the most dire of consequences! I enjoyed this story and found I was caught up in the circumstances of the big reveal. Packs a good cozy-feel ending not to miss."
–A Cup of Tea and a Cozy Mystery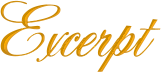 The shrill sound of sirens awakened Katie way too early the next morning. She squinted at the glowing numerals on her clock: six forty-seven. The sun was hardly up, but the volume of the noise told her the sirens were close.
Katie threw back the light blanket and staggered out of bed to look, disturbing her cats, Mason and Della, who'd been nestled against her. Still sleepy, she stumbled into her apartment's living room and pulled up the blinds on the window that overlooked Victoria Square. A clot of police cars and an ambulance had just pulled into the lot in front of Sassy Sally's Inn—what had formerly been known as the old Webster Mansion—at the far end of the Square.
"Oh, no!" Katie cried. Could something have happened to one of the inn's owners? She watched as the EMTs spilled out of the ambulance, clutching their gear, and raced through the open gate into the yard and up the inn's staircase, disappearing inside the building.
Katie turned and hurried back to her bedroom where she exchanged her nightshirt for a pair of jeans and a T-shirt, stuffed her feet into a pair of sandals, grabbed her keys, and flew out the door, worried sick that one of the inn's owners, Nick Farrell or Don Parsons, was ill. In only seconds, she hit the bottom of the stairs, exited the building, and ran across the parking lot. She was breathless with a stitch in her side by the time she mounted the stairs and entered the inn's front parlor. Thankfully, she saw Nick.
"I saw the police cars and ambulance," she gasped. "Are you okay? What about Don?"
"We're fine," he said, clasping her hands to reassure her. "But it looks like our first guest has died overnight."
"A guest?" Katie was puzzled. "But I thought the inn wouldn't officially open for another two months."
"He wasn't a paying guest," Nick said. He sighed and shook his head. "It's too long a story to get into right now." He glanced at the cherry antique grandfather clock that stood against the far wall. "I wonder if it's too early to call Seth."
"Do you really need a lawyer?"
"I don't know. Better to cover our hind ends just in case."
"Where's Don?"
"Upstairs in the only finished guest bathroom with the police."
"Which one of you found him?"
"Don. The guy asked for a six thirty wake-up call. When he didn't answer, Don opened the door. He found him dead in that gorgeous soaker tub."
"How horrible!" Katie easily pictured the scene. She'd spent many hours at Sassy Sally's with the partners Don and Nick, partners in life as well as in business, helping them plan the renovations. For years it had been her own dream to own the mansion and run it as a bed-and-breakfast, but now that her business was a growing success, she was finding it easier to let the old dream fade.
One of the cops thundered down the stairs. "Are you Katie Bonner?" he asked.
"Yes."
"Mr. Parsons said you knew the deceased. If you wouldn't mind, we'd like you to come upstairs and make a positive identification."
Katie looked to Nick. "I know him?" she asked, confused.
Nick nodded grimly. "Do you think you can do this?"
She'd seen several corpses during the past year—and it wasn't something she particularly enjoyed. Still….
She nodded and followed the cop up the stairs, noting the banister still needed refinishing. Nick and Don had made a lot of progress on their renovations list, but there was a long way to go before the inn would open in November.
The EMTs hadn't even unpacked their equipment. "He's been dead for hours," one of them explained to another of the uniformed deputies.
"Stand aside, guys," the deputy said, and Katie threaded her way through the officials crowding the bathroom. Katie hadn't seen the finished bathroom, but she had seen it many times during the renovation. The marble floor and white subway tile looked elegant against the gleaming brass. She kept her gaze fixed on anything but the body in the tub. She could see a man's arm hanging over the edge. She inched forward, allowing her gaze to travel slowly up his pasty flesh, onto his wet shoulder, taking in his stubbled chin and then—
"Oh, my God, it's Josh Kimper." She searched the faces around her until she came upon Don's unsmiling face. "Josh was your guest?"
The dark-haired man nodded.
An officer introduced himself as Deputy Baxter then asked, "What was your relationship with the deceased?"
Katie swallowed. "Uh, I used to work for him. I saw him just yesterday at the marina. He seemed fine." Arrogant and rude, but healthy enough.
"You worked for him?" the deputy prompted.
"Uh, yes. I was his office manager for a number of years. I left the agency last fall. I own a business here on Victoria Square." She looked back at Josh's pale, lifeless body. In death, he'd lost the constant sneer that had usually marred his features. It didn't make him any more attractive. "Did he have a heart attack?" She remembered how red his face had been during their confrontation the day before.
"That'll be up to the medical examiner to determine," the deputy said.
"Poor Marcie," Katie said quietly.
"Is that his wife?" Deputy Baxter asked.
She nodded and then shook her head. "They've got two young daughters. Who will tell her?"
"Someone from the department will make a home visit," the deputy assured her.
Katie nodded om acknowledgment of the awful task. Josh had been a horrible boss and probably hadn't been much of a father, but the girls were much too young to lose their daddy.
"Is there anything I can do?" Katie asked.
Baxter shook his head. "We'll take care of everything from here on out, ma'am."
Katie shuddered. Ma'am. But then she shouldered her way out of the lovely bathroom to find Don and Nick waiting for her in the hall.
"Are you okay?" Nick asked.
Katie nodded, but Nick stepped forward to give her a hug anyway. When he pulled back, Katie braved a smile. "Thanks."
"Let's go downstairs and let the officers do their jobs," Don suggested.
Again Katie nodded, and let him lead the way. But as she descended the stairs, she couldn't help but wonder if Josh's death was a bad omen for Sassy Sally's. Too many people had lost their lives within the walls of that house. She hoped that Josh Kimper's death would be the last.
Somehow, she doubted that.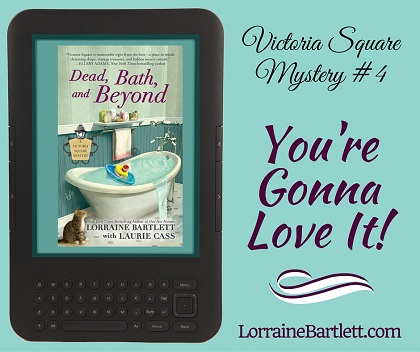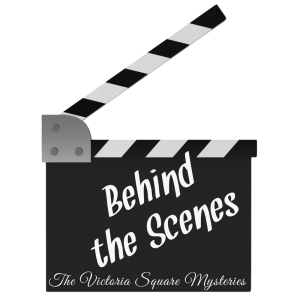 Katie Bonner says:
Boats, boats, boats and boats. Whoever thought so many vendors at Artisans Alley would own boats? And it's not just the vendors. Quite a number of the merchants in and around Victoria Square have boats, too.
So what's what all the boat-afloat talk? Or rather – non-talk. Because despite the fact so many people around me seem to own boats, nobody wants to talk about it. That makes me curious, and when I'm curious, I tend to be a tiny bit nosy.
For instance; spying on my friends—following them—just to make sure everything is on the up and up. I also have a fierce desire to protect my friends, and sometimes that gets me into trouble. Oh my goodness, you don't want to know just how much trouble I got into this fall …
Then again, maybe you do. And if so, you might want to read about my latest adventure: Dead, Bath and Beyond.
Did you ever wonder how where the various businesses are located on Victoria Square?  Check out the maps page.