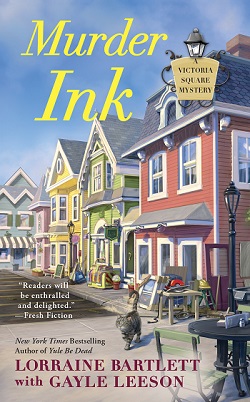 Murder Ink
Victoria Square Mystery #6
by Lorraine Bartlett with Gayle Leeson
Tensions are electrified on Victoria Square when the owner of a building that's to open as a tattoo parlor is killed.

A tattoo parlor on Victoria Square? Some of the merchants get hot under the collar at the proposal, but could they be driven to kill to stop it? That's what the Sheriff's Office and Katie Bonner want to know when the owner is electrocuted with his own saw. Meanwhile, tensions rise when a hot chef takes over the Square's tea shop. Will Katie have three men vying for her affections, or will her rival take the tea cake?
Amazon | Barnes & Noble | Books A Million | Chapters/Indigo | Bookshop.org
Kindle | Nook | Kobo | Apple Books  | Google Play
---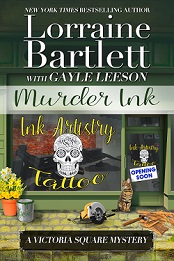 For those of you in the UK, AU, IE, and NZ — look for this cover and these links!
Kobo CA | Kobo UK | Kobo AU | Kobo NZ | Kobo South Africa | Kobo Ireland
Kindle UK & IE  |  Kindle AU &  NZ
Apple Books UK | Apple Books AU |  Apple Books NZ
---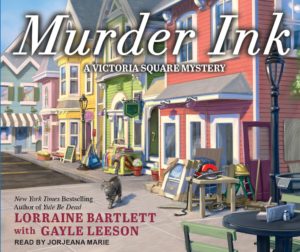 Coming to audio, too, on January 28th.  Performed by Jorjeana Marie.
P.S. Did you ever wonder where the various businesses are located on Victoria Square?  Check out the maps page.
---

"Her sixth murder mystery in her 'Victorian Square Mystery' series, Murder Ink, by Lorraine Bartlett (with Gayle Leeson) is another little gem of a novel and certain to be a welcome and endearingly popular addition to community library Mystery/Suspense collections."
–Midwest Book Review
"The plot was well-researched and realistic. Katie has a lot of irons in the fire and juggles them with her usual skill. Discovering the murderer was challenging, and I'm happy to say I was only a few steps – or pages – ahead of Katie. There were such good suspects along with some amazing surprises! The loose ends were tied up, and to me, this is the best cozy in the series. I highly recommend it!"
–Open Book Society
"Katie is a likable character, very invested in her town, her business adventures, and the people she loves. When her friends are in trouble she is the first to volunteer to help fix the problem. Katie is a very strong character. She has proven she can manage businesses, be chair of the Merchant Association, and aid in murder investigations (even though the local police department wishes she would refrain on the aid part). Her imperfections make her human and relatable. I enjoy all of the secondary characters and the way the author portrays them. Each person is vital to Katie's successes, whether professionally or personally. I enjoyed Murder Ink and can't wait for the next book."
–Reviews by Saph
"A well-crafted drama with a solid mystery that kept me intrigued."
–Dru's Book Musings
"The characters are very well-crafted and are featured in an entertaining story with strong mysteries. a great addition to the series. I am excited about the next book, I am very interested to see what Ms. Bartlett and Ms. Leeson have in store for Katie."
–Escape with Dollycas into a good book
"Author Lorraine Bartlett has nurtured this series since book one, and her dedication shows. Wonderfully written, along with author Gayle Leeson, MURDER INK may be the best installment yet.
"There's more going on in this story than you may first realize. With always something happening to add more questions, I found myself scratching my head a few times trying to link the details. However, when all the pieces fell into place, the subtle clues throughout seemed so obvious to me."
–Lisa K's Book Reviews
"Murder Ink was an enjoyable cozy mystery that kept a fast pace and engaged my curiosity from start to finish!"
–The Genre Minx Book Reviews
---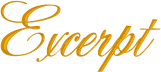 After a morning filled with far too many problems, Katie was due to meet Andy for their regular lunch date at Del's. But first, she decided to swing by Harper Jones's vacant building to have a word with Ken Fenton.
As she walked up to the frame building, Katie was greeted by the sound of a hammer pounding wood. Gingerly, she stepped inside the building and called, "Hello!"
Katie's great Aunt Lizzie would have said Ken Fenton was built like a fireplug, and, honestly, he was the first person for whom she thought that description was accurate. The man was short and looked as if he was tough as nails. A red bandana tied around his head and the intimidating expression on his stubbly face could best be described as grim.
"What can I do for you?" he asked, still clutching a hammer rather than putting it into the holster on his tool belt.
"I'm Katie Bonner, head of the Victoria Square Merchants Association. I came to apologize for Mr. Davenport's visit this morning. I think the two of you must've misunderstood each other."
Fenton straightened, looking none too friendly. "I think I made my position pretty clear."
"Yes, sir, but I just wanted you to know that the Merchants Association doesn't want to run your brother out of business. In fact, we want to make sure his business is successful…and we're afraid he won't get the kind of traffic he needs here on Victoria Square."
"Why don't you let him worry about that?"
"We just want to see him succeed," Katie reiterated, hoping he'd notice the sincerity in her voice.
"Yeah, sure you do." He dropped the hammer into the loop on his tool belt and picked up a circular saw. "I need to get back to work."
"I understand, but—"
He turned on the saw to drown out her words. Immediately, his smirk changed to a look of horror. As his body began to shake, Katie looked for the power cord. Maybe if she—
Wham!
The next thing Katie knew, she was sitting against the wall on the other side of the room from Ken…Ken who'd turned on the saw and then…
Ken!
She struggled to sit up. Where was he? Why was her body trembling so badly? She could see Ken lying on the floor. Her purse had been spilled, so she crawled toward it and rummaged through the contents until she found her phone. She'd missed two calls from Andy, but she called 9-1-1 first.
When she was assured the ambulance was on its way, she called Andy.
"Hey, where are you?"
"I'm…I'm at Harper Jones's vacant building on the Square. Andy, I got shocked…and I think K-ken might've been…electrocuted."
Andy's voice was taut. "On my way."
---

Amazon | Barnes & Noble | Books A Million | Chapters/Indigo | Indiebound
Book Depository (Free shipping worldwide)
Kindle US | Nook | Kobo | Apple Books  | Google Play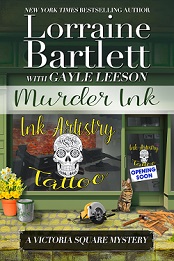 For those of you in the UK, AU, IE, and NZ — look for this cover and these links!
Kobo CA | Kobo UK | Kobo AU | Kobo NZ | Kobo South Africa | Kobo Ireland
Kindle UK & IE  |  Kindle AU &  NZ
Apple Books UK | Apple Books AU |  Apple Books NZ