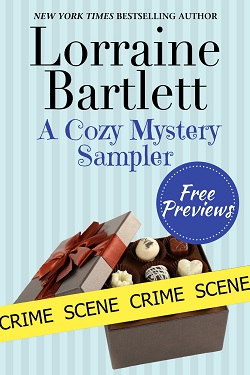 Like a sampler box of chocolates–-dip in and find your favorite!
Included in A Cozy Mystery Sampler are selections of seven of Lorraine Bartlett's novels. These include the opening chapters of four of the Victoria Square Mysteries (A CRAFTY KILLING, THE WALLED FLOWER, ONE HOT MURDER, and DEAD, BATH and BEYOND, as well as the companion cookbook, RECIPES TO DIE FOR); the opening chapters of the first Lotus Bay Mystery (WITH BAITED BREATH), and a bonus feature of the first three chapters from the Tales of Telenia adventure-fantasy series (STRANDED and JOURNEY).
These chapters give readers an overview of her various series as well as a chance to get to know the characters.
Download it for FREE!
Kindle US | Nook | Kobo | Apple-Books
---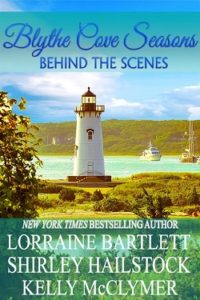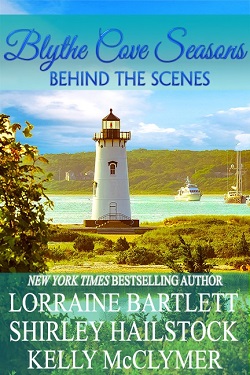 Blythe Cove Seasons: Behind the Scenes
A companion to the Tales From Blythe Cove Manor series
Come to the island of Martha's Vineyard and learn the stories behind Storytellers Unlimited Blythe Cove Manor anthologies. Blythe Cove Seasons features essays pertaining to the island and our fictional bed-and-breakfast, including recipes from the kitchen of Blythe Calvert, proprietress of Blythe Cove Manor. You'll also learn a little about our authors, Lorraine Bartlett, Shirley Hailstock, and Kelly McClymer.
Blythe Cove Manor … where you'll always find just a little bit of magic.
Download it for FREE!
Kindle US | Nook | Kobo | Apple Books | Smashwords
---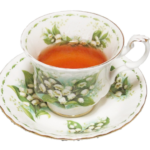 Check out TEA FOR YOU, recipes from Katie Bonner and Victoria Square's Tealicious tea room. It's free, too!
---
GOT BOOKMARKS!
I'd be absolutely thrilled to send my readers bookmarks to share with your friends and family, bookclub, library, or favorite bookstore.  Just tell me how many you want and the snail mail address (see below for how to contact me).
Writing as Lorraine Bartlett
Bookmarks
Tales of Telenia
Victoria Square
Lotus Bay
Life On Victoria Square
Tales of Blythe Cove Manor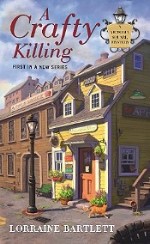 OTHER FREEBIES
Writing as L.L. Bartlett
Jeff Resnick Mysteries Bookmarks
Writing as Lorna Barrett
Booktown Bookmarks
Email me to let me know which items you'd like:
 bartlett.lorraine2 @ gmail.com (remember to close up the spaces)
Domestic US only due to postal restraints.
Thanks for your interest in my work!