GOT BOOKMARKS!
I'd be absolutely thrilled to send my readers bookmarks and postcards to share with your friends and family, bookclub, library, or favorite bookstore.  Just tell me how many you want and the snail mail address (see below for how to contact me).
Writing as Lorraine Bartlett
Bookmarks
Tales of Telenia
Victoria Square
Life On Victoria Square
Tales of Blythe Cove Manor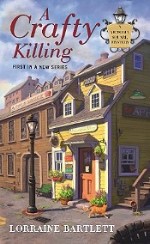 OTHER FREEBIES
Writing as L.L. Bartlett
Jeff Resnick Mysteries Bookmarks
Writing as Lorna Barrett
Booktown Bookmarks
Email me to let me know which items you'd like:  llb @ llbartlett.com (remember to close up the spaces)
Domestic US only due to postal restraints.
Thanks for your interest in my work!