NOW AVAILABLE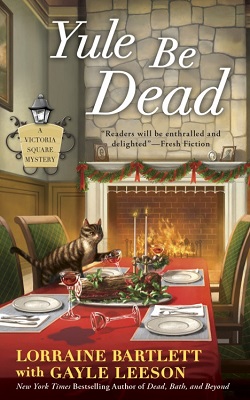 YULE BE DEAD –
Victoria Square Mystery #5
by Lorraine Bartlett and Gayle Leeson
It's Christmastime, but not everyone is jolly–especially not Vonne Barnett. Her dead body has been found near Victoria Square. Katie Bonner, the manager of Artisan's Alley, happens to be at the tea shop Vonne's mother, Francine, owns when the news is delivered.
Vonne left a trail of men behind her so the suspects are many–but the clues are few. A broken teacup leads Katie to one of the suspects, but before she can investigate, she's attacked. Katie may be closing in on a murderer, but time is ticking because the murderer is definitely closing in on her.
Get your copy now!
Amazon | Barnes & Noble | Books A Million | Charters/Indigo | Bookshop.org
Kindle | Nook | Apple Books | Google | Kobo
And in Audio:  Audible | Amazon (MP3) — Amazon (CDs) | iTunes  | Kobo
Listen to an audio sample here!
---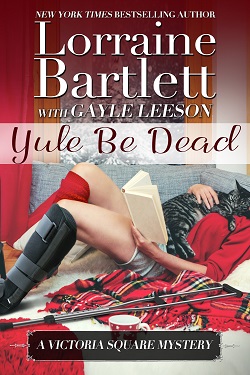 For those of you in the UK, AU, IE, and NZ — look for this cover and these links!

Kindle UK | Kindle AU
Kobo: UK | Australia | New Zealand
Ireland | South Africa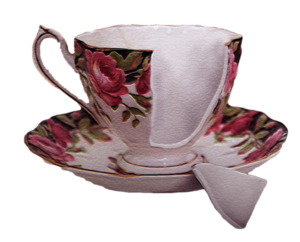 Did you ever wonder where the various businesses are located on Victoria Square? Check out the maps page.
---
WATCH THE VIDEO!
---

"The authors have crafted a fun-filled holiday mystery that delivers on thrills, heart-warming moments, and thoughtful depictions of the modern family. This entertaining series has always delighted with its many crafters and artists, and here leaves readers anticipating the future for these extremely likable characters."
–Kings River Life Magazine
"Yule be Dead is a fabulous mystery not only for Christmas, but throughout the year, including in the heat of summer when the thought of snow is so refreshing. I enjoyed the Dickensian festival and costumes, decorations and Christmas tree lighting ceremony, emphasizing the sense of community in the Square. The many activities and challenges demonstrate how demanding Katie's job is and how much Artisan's Alley has become an integral part of the community. The plot twists bring thought-provoking changes to the landscape of the mystery, making it an outstanding, riveting read. I struggled to figure out who the killer was. The ending brings several surprises for Katie, Margo, and the resolution to the mystery. Overall, I was very  sad to see the last page! I highly recommend this captivating cozy mystery; it can be read as a standalone or within the series."
–Open Book Society
"Lorraine Bartlett writes strong, relatable female characters. It's her ability to write such memorable amateur sleuths that has me coming back again and again."
— The Cozy Mystery Journal
"I enjoyed the mystery itself, the character interaction and the holiday theme. With proper pacing, timely events and an assortment of small-town characters, this is a great book to gift to your mystery-loving friends and family. But don't forget to get a copy for yourself!"
–My Shelf.Com
"I really can't praise Yule Be Dead enough. This book has it all: great characters, a romance (perhaps a love triangle?), a mother-in-law, and a fantastic mystery plot. What more could a lover of cozy mysteries desire. I give this book five stars!"
–Fangirl Nation Magazine
"If you were looking for the cozy to brighten up your season this one fits the bill. I have found each visit to be more exciting than the last and with the holidays coming there was a touch of seasonal magic to this story. I look forward to Katie's future adventures."
–Bibliophile reviews
"The mystery hooked me from the very start. Its many twist and turns kept me guessing until the very end."
–Cozies And Kitties Book Reviews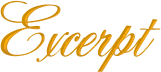 Katie had just finished updating the profit-ratio spreadsheet—and things were looking mighty fine indeed—and was sitting in her office munching on a peppermint as a reward when Rose knocked on the office doorjamb. She scrunched up her face and shook her head, setting her blonde curls to bouncing.
"I wish you wouldn't do that," Rose said. "It's bound to be murder on your teeth."
Katie motioned the older woman inside and asked her to shut the door. "That's a funny choice of words. As it happens, Ray Davenport told me earlier that Vonne Barnett over at Afternoon Tea didn't die in the accident. She was murdered, and the car wreck was staged."
Rose gasped as she lowered herself onto the chair by Katie's desk. "Is he sure?"
"He said someone from the Sheriff's Office told him."
"They wouldn't make something like that up," Rose said, and worried the bow attached to the collar of her red silk blouse.
"I never heard of Vonne having any enemies. Did you?"
"The only people I can think of who didn't care too much for Vonne would be…you know…romantic rivals. She could be quite the flirt, and she'd made it clear lately that she was in the market for a husband in a big way."
Katie frowned. "Really? I hadn't heard that."
Rose inclined her head. "I don't know if there's any truth to it or not, but I understand Vonne even got too friendly with Liz Meier's husband, and Liz let her know she didn't appreciate it."
"Was Vonne drunk at the time?"
"I don't know. But the word is Vonne did like her alcohol."
Francine had asked the detective if Vonne had been stopped for DUI again.
"I wonder if Francine knows Vonne was murdered," Rose murmured.
"I'm guessing yes. I mean, surely they'd have told her before they'd tell an ex-member of the Sheriff's Office like Ray Davenport. Wouldn't they?"
Rose raised her bony shoulders. "The open sign is on over at the shop. How could Francine be working if she knew someone had murdered her daughter?"
Katie frowned. "How could she be working when her daughter has just died period? Since business hasn't been good lately, maybe she feels like she has to. I think I'll go check on her. Do you want to come?"
"Yeah. I'll see if Vance can man the cash register. But before I do, there's something you need to know."
"How well should I brace myself?"
"Not much, I wouldn't think," Rose said. "It's Godfrey Foster. He's complaining about the ballerinas."
The ballerinas Rose spoke of were from It's Tutu Much, the dance studio on the north side of the building. Quite a few of the pupils were practicing for a performance of The Nutcracker. How a group of charming little girls could be bothering Godfrey was beyond her. But, then, if cute kids were going to be an aggravation to anyone, it would be Godfrey.
Back in September, he'd made such a stink about the odor emanating from the nail salon that Katie had been determined to kick the guy out. But Godfrey begged to stay, offering to pay not only a year's rent in advance, but ten percent more to keep his booth of dryer lint art going. Several vendors had come to her to plead his case, which made Katie suspect he might have paid them to do so, since it seemed his friendships with other vendors were few and far between. She'd let him stay, and so far, he hadn't caused any more trouble—but his mere presence still irked her.
"And what are the tiny dancers doing to perturb dear Mr. Foster?" Katie asked.
Rose's lips twitched in an obvious effort not to laugh. "They took a coloring book page and stuck different colors of chewed gum onto it, signed it Goofrey, and left it in his booth."
Katie burst out laughing. "I'd love to see that. Do you have it?"
Rose joined in the laughter. "No. Godfrey threw it away. It was all I could do not to laugh while he was telling me about it."
"We'll tell him that if it happens again, he needs to hold onto such an item as evidence."
"He might even be able to dig that one out of the trash," Rose said.
"Uh…no, thanks. I don't want to come within fifty feet of anything that has been in Godfrey's trash. Are you ready to go to the tea shop now?"
"Sure. Let me go get Vance."
Vance Ingram's booth featured small wooden furniture and he was Katie's unofficial second-in-command. He'd helped the former owner run the place and knew just about everything there was to know about Artisans Alley. Once Rose had enlisted the skinny Santa Claus look-alike, and Katie retrieved the cookies she'd made for Francine, she and Rose donned their coats and battled the bracing wind as they crossed the parking lot to Afternoon Tea.
A woman sat at a table in the far corner of the room reading a paperback and sipping a cup of tea, but she appeared to be the tea shop's sole customer.
Francine sprayed a cleaning solution onto the counter and wiped it up with a paper towel. "Hello, ladies, and welcome to Afternoon Tea. Would you like to try our blackberry ginger tea?"
Rose wrinkled her nose, but Katie answered for both of them. "Um, sure. To go, please."
Francine poured the hot tea into two lidded paper cups, returned to the counter, and gave them a total.
Katie proffered the tin of cookies. "I made these for you. I thought you might need something comforting in your time of sorrow."
Francine accepted the tin. "That was nice of you. Thanks." Curiously enough, she didn't seem all that sorrowful.
"I'm surprised to see you back at work so soon," Katie said, offering a ten-dollar bill.
Francine rang up the sale. "I have bills to pay."
"I'm sure there are…other things…you need to be doing," Katie said. "If you feel the shop absolutely must be open, then I'd be glad to hold down the fort for the day."
"You're sweet to offer, but I know you have your own work to do. Of course, if you were to buy the shop, that would take a load of responsibility off me." She looked at Rose. "I'm trying to get Katie to buy Afternoon Tea. I think she could make a great success of it, don't you?"
Startled, Rose looked from Francine to Katie, back to Francine, and back to Katie again. "Um…what?"
"Oh yes. Now that Vonne is gone, I'm absolutely putting the shop on the market. I simply can't do this by myself. I'm trying to get Katie to assume ownership. She could take over the lease, buy out the inventory and equipment, and go right to work." She turned to Katie with a smile. "What do you say, Katie? You know you'd love it…the way you enjoy baking and all."
Katie's eyes widened. "Well…I'll consider it."
"Don't take too long. I wouldn't want someone to buy the place out from under you."
Katie thought about Sassy Sally's at the east end of the Square, the bed-and-breakfast she'd wanted to buy and renovate herself. Actually, she and Chad had planned to buy the old mansion before Chad had invested their savings in Artisans Alley. She'd missed one opportunity. She didn't want to miss another. And given her success with Artisans Alley, it seemed as if turning around seemingly lost causes might be her specialty.
But how would the Artisans Alley vendors feel about it? Would they see her buying the tea shop as a betrayal? And what about the Victoria Square Merchants Association? Katie was their president. Would the association feel that she was spreading herself too thin if she tried to continue to operate Artisans Alley as well as a tea shop? Would she be?
Rose lightly touched her arm. "I should be getting back."
"Yeah. Me, too. Francine, I'm nearby if you need anything."
"Just please give my offer some serious consideration. I'll make you a good deal on the place."
Katie nodded. "All right."
"And thanks for the cookies."
Rose was quiet as she and Katie left the tea shop. Katie thought it best not to press the matter. On the one hand, she wanted Rose's honest opinion. But on the other hand, she wanted to make the decision on her own. She cared about and respected her friend's and the other vendors' opinions, but she had to do what was best for her.
The sound of a door opening to her left caused Rose to grab Katie's arm and propel her past a parked car toward the other side of the Square. "Let's go this way. My, isn't the wind bracing? Good for clearing our heads."
"It is." As a matter of fact, Katie usually power-walked around the Square at least twice each morning, which not only was good exercise but gave her a peaceful time to think, although she hadn't taken time to do so today. Still, Rose's behavior was odd. "But what are we really doing?"
"We're avoiding Nona Fiske."
Nona was the fussbudget who owned the Quiet Quilter next door to the tea shop. She was someone best to be avoided most of the time, but Rose was like a woman on a mission.
"Why are we avoiding Nona?" Katie asked.
"She accosted me at the grocery store yesterday and told me she thinks one of the new Artisans Alley vendors is knocking off her quilt patterns."
"Oh, my goodness." Katie finally raised the blackberry ginger tea to her lips. "Hey, this isn't bad."
Rose tentatively raised her own cup and took a sip. "No, I guess not. So, are you going to do it?"
Katie was saved by responding when Ray Davenport stepped outside Wood U and flagged them down.
"Hey, Katie, have you got one second?"
"Sure." Katie looked at Rose.
"I'll go back to the Alley before Vance has my hide for saddling him with the cash register for so long," she said. "I'll see you later."
Katie mounted the steps and entered Ray's shop.
"Sasha called from school—she needed me to email one of her teachers my permission for her to go on a field trip tomorrow," he said. "Anyway, I went ahead and told her you'd like to take her and Sadie Christmas shopping after school, and she was really excited about it."
"Good. I'm looking forward to it, too." She took another taste of the tea. "Ray, when you were a cop, you had to deal with a lot of people who'd just suffered loss, right?"
"Every day, it seemed. That's one of the reasons I was ready to retire. Why do you ask?"
"Rose and I just came from Afternoon Tea. Francine is there…working…acting as if everything is fine."
Ray rocked back on his heels. "Well, everyone processes grief differently. It's possible she appears indifferent in public but grieves in private."
"I suppose. Rose told me that Vonne was a big flirt. And since you're one of Victoria Square's eligible bachelors, I wonder if she ever made a play for you."
The color rose in Ray's cheeks. "She did. I shut her down. She wasn't my type."
"Rose thought she was in the market for a husband."
"That's the impression I got," Ray said. "She wanted somebody to take care of her." He was quiet for a long moment, as though mulling something over before he spoke once more. "The latest news—and please keep this to yourself—is that Vonne was pregnant when she died."
---
Get your copy now!
Amazon | Barnes & Noble | Books A Million | Charters/Indigo | Bookshop.org
Kindle US | Google Play | Nook | Apple Books | Kobo
And in Audio:  Audible | Amazon (MP3) — Amazon (CDs) | iTunes  | Kobo
Listen to an audio sample here!