ONE HOT MURDER: Where there's smoke…
Katie Bonner, the reluctant manager of Artisans Alley in the quaint shopping district of Victoria Square, is no stranger to ambivalence. Things have been going hot and heavy with pizza maker Andy Rust—so much so that Katie has moved in over his pizza parlor. But now that summer's ushered in a heat wave, an apartment above pizza ovens without an air conditioner is making Katie hot and bothered.
At the height of the heat wave, a tragic fire strikes Victoria Square. Wood U, a small store selling wooden gifts and small furniture, is destroyed. But the fire may just be a smoke screen—for murder. A body is found among the charred wreckage, and the victim didn't die from smoke inhalation. He was shot. Now—despite making Detective Ray Davenport hot under the collar—Katie is determined to smoke out a cold-hearted killer…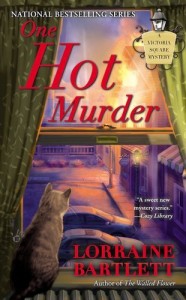 In Print
Amazon | Barnes & Noble | Books A Million
Indigo/Chapters | Bookshop.org
Available as E Books:
Kindle ~ Nook ~ Kobo ~  Apple Books
Google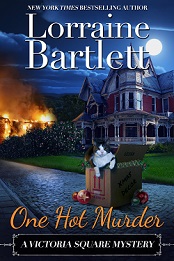 FINALLY AVAILABLE in e-formats in the UK, Australia, New Zealand, and Ireland
Apple Books UK | Apple Books AU | Apple Books NZ
Kobo:  UK | Australia | New Zealand | Ireland
Audible  |  Amazon  |  iTunes  |  Barnes & Noble | Kobo | Spotify

"The plot is a whole lot of fun. Katie's a strong character that wants nothing more than to find the answers. Once again, the recipes in the back are scrumptious!"
–Suspense Magazine
"Highly enjoyable … creatively done. I like the setting of the series and the details found in it. The conclusion was creative and well-written too. Five stars!"
–Fangirl Nation
"Lorraine Bartlett always delivers. A likeable heroine, an interesting setting with a wonderful sense of place, and a fast moving plot that keeps you guessing makes this book a highly entertaining read. If you've never read any of Lorraine Bartlett/Lorna Barrett's mysteries, this one will definitely get you hooked on this prolific author's unique voice."
–The Conscious Cat
"Boasting a diverse cast of characters, a warm comfortable atmosphere and enjoyable dialogue, this is by far, the best book in this wonderfully crafted series and I look forward to the next adventures with Katie and her friends."
–Mayhem and Magic Blog
"This is a perfectly 'crafted' mystery filled with twists and turns that made me feel as if I was right there on Victoria Square. Katie is a great character, and I enjoy the growing relationships she has with her friends and vendors (oh that Ida!!!) The ending is quite a surprise and is sort of left open, so I'm curious to see how that will play out in the next book."
–Melissa's Mochas, Mysteries and More
"Another strong installment in this mystery series.  I can't wait to see what is up next for our residents of Victoria Square."
–A Prairie Girl Reads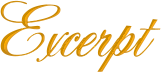 Katie Bonner's gaze traveled to the old Webster mansion. You're a fool, my girl. You'll never get the inn, even if it is up for sale once again. Yet no one seemed in a hurry to buy the old place, and that suited Katie just fine.
She pulled at the sweaty collar of her yellow Artisans Alley T-shirt wondering if she should take a walk to the strip mall and the seasonal ice cream stand there. Hot as it was, it had to be cooler outside than in. And one triple vanilla cone rolled in slivered almonds would make her feel a lot cooler—at least for the five or so minutes it would take to eat it.
She glanced out the window one last time. Though it needed so much work before it could become habitable once again, gazing at the old Webster mansion never bored her. But this time it wasn't the mansion that caught her attention. The south side of Victoria Square seemed to glow in the gathering twilight, and it wasn't from the warm feelings she felt for the lovely shopping district.
|
"Good Lord!" Katie cried and jumped to her feet. "The Square's on fire!"
Grabbing her cell phone, she ran for the stairs, flew down them, but paused at the front of the pizzeria and yanked open the door. Andy stood in front of one of the ovens with a long-handled wooden paddle in hand loaded with a large pizza.
"Andy—the Square's on fire—the Square's on fire!" she hollered and turned, letting go of the door. She punched in 911 and started running east toward the end of the Square, where a trail of smoke rose from the back of one of the shops—Wood U.
The dispatcher came on the line.
"There's a fire on Victoria Square—send the fire department fast!"
"Address please?"
Katie's mind whirled. "I don't know. Number five—or six—or maybe seven Victoria Square in McKinlay Mill. Please, send someone fast!"
She halted in front of Wood U—a shop specializing in wooden gifts and small furniture—and took in the sight. From this vantage point, there seemed to be more smoke than actual fire. Maybe the fire department could save it—or at least contain the blaze before it spread to the other shops—or worse, to the old, tinder-dry Webster mansion, which was its closest neighbors.
Luckily the fire department wasn't more than a couple of blocks from Victoria Square, and soon Katie heard the piercing wail of sirens as two fire trucks and a rescue squad pulled into Victoria Square. With all the shops closed for the day, there was plenty of room for them to spread out. Eight firefighters spilled from the trucks, grabbed hoses and hooked them to two of the hydrants in the Square, while their chief and another firefighter ascertained where best to approach the blaze.
"Can you save it? Can you save it?" Katie called, but the men were too intent on their work to answer her.
A Sheriff's Office cruiser pulled up about the same time as the first of the rubberneckers arrived to watch the show. One of them called and waved a hand to capture Katie's attention.
"Good heavens," Gilda Ringwald-Stratton called, her face flushed from running from her store, Gilda's Gourmet Baskets. Trust Gilda to still be working at this hour. "Is Dennis inside?" she asked, her eyes flashing with worry.
Dennis Wheeler owned Wood U. During the school year, his wife, Abby, took care of the store when he was at work as the industrial arts teacher at McKinlay Mill High School. He took care of it during the summers—or at least that had been their arrangement. Now that Dennis had retired from teaching, he wasn't sure what they were doing. Like most of the businesses on Victoria Square, the store should have been closed at this time of the evening—with no one inside. At least, Katie hoped so.
"Maybe one of us should call their house to make sure," Gilda suggested. "I've got the Merchants Association member list in my store."
"You do that. I'm sure they'll be heartsick to learn there's been a fire. But at least if it's one of the merchants who tells them, it might come as less of a shock."
Gilda nodded. "I'll be back in a few minutes," she said, and scooted back toward her store, leaving Katie to worry alone.
The smoke billowed from the back of the shop as the firefighters manned their hoses, spraying it down. Another fire truck arrived from nearby Parma. These firefighters set up a pump beside McKinlay Creek, and soon they, too, were dousing the building. Within a minute or so, they shut down their hoses and began the work of investigating what had started the fire.
"That wasn't too bad," she heard the fire chief tell one of his men.
The Square's gas lamps seemed to grow brighter as the sky darkened and Katie moved back from the structure, hoping to get away from the stench of burned wood. Her mind was awhirl. How could this have happened? What would it mean for the Square? And what would Dennis say when he learned about the condition of his store?
Cell phone still in hand, Gilda hurried across the parking lot. She was nearly breathless when she reached Katie. "I called Abby. She's on her way."
"Was Dennis at home?"
Gilda shook her head. "She's pretty frantic. She said Dennis was working late in the shop tonight. She hadn't heard from him since he closed about six."
A little more than three hours before.
Katie bit her lip, wishing the darkness had brought a cooling breeze with it.
Gilda craned her neck to try to see what the firefighters were doing out back. "Have they come up with a cause yet?"
Katie shook her head. "I'm going to take a walk around the Square's back parking lot to see if Dennis's car is back there."
"Do you want me to come with you?" Gilda offered.
"You'd better wait here for Abby. She might need a familiar face—and maybe a shoulder to cry on."
"Hurry back," Gilda called.
The crowd of onlookers had grown considerably, and Katie had to thread her way through them. She jogged around the side of The Perfect Grape, the Square's wine shop, until she could see the back parking lot. Sure enough, Dennis Wheeler's aging green minivan was parked not far from the back of his shop, which was still crawling with firefighters.
With a heavy heart, Katie headed back to the front lot.
She had almost made it back to Gilda when a familiar gray Sebring—its horn honking frantically—made its way through the throng of onlookers. Finally the driver shoved the gearshift into Park and pulled the keys from the ignition. She yanked open her door, jumped out, and started running toward Wood U.
Abby Wheeler's face was already red and puffy from crying. Katie picked up speed to intercept her just as she joined Gilda.
"Was Dennis inside?" Abby called, her eyes wild.
"We don't know," Gilda said.
"I'm afraid his car is still parked out back," Katie said, hating to be the bearer of bad news, but Abby would have learned the truth soon enough.
"I'm so sorry," Gilda said, patting Abby's arm.
"Just because the car is parked out back doesn't have to mean Dennis was inside," Katie said, trying to sound encouraging, although she felt anything but.
There didn't seem to be much else to say. A trembling Abby stared at the scorched building as silent tears continued to cascade down her cheeks.
Eventually the sooty fire chief excited the building and removed his face mask. "Better send for the meat wagon," he told the deputy. "We found a body inside."
Abby closed her eyes and began to sob.
"Come on, Abby. Come and sit down over here," Gilda said, and managed to turn Abby away from the building, leading her back to her car.
"Do you think it was smoke inhalation?" the deputy asked.
The chief shook his head. "Not unless he could breathe through a hole in the middle of his face."
"Murder?" Katie whispered and was instantly sorry, hoping Abby was well out of earshot.
The deputy turned to face her, his expression grim and angry. "Don't you say a word about this," he commanded.
"It'll be common knowledge by tomorrow," she said.
"Yes, but let the Sheriff's Office be the one to announce it to the world—not you."

In Print
Amazon | Barnes & Noble | Books A Million
Indigo/Chapters | Book Depository | Indie Bookstores
Available as E Books:
Kindle US ~ Nook ~ Kobo ~  Apple Books
Available as in e-formats in the UK, Australia, New Zealand, and Ireland
Apple Books UK | Apple Books AU | Apple Books NZ
Kobo:  UK | Australia | New Zealand | Ireland
Audio!
Audible  |  Amazon  |  iTunes  |  Barnes & Noble | Kobo | Spotify
---
Did you ever wonder how where the various businesses are located on Victoria Square?  Check out the maps page.