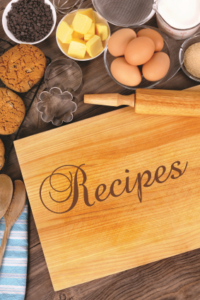 Katie Bonner is the first to admit that she's not the best cook in the world, but that's okay because she was born with a sweet tooth and a baking gene.  Katie bakes for relaxation, and since she lives alone (except for feline company), she loves to share the bounty of her kitchen with her friends at Artisans Alley.
Katie has also put together Recipes to Die For: A Victoria Square Cookbook.  To read more about it, click here.
One of Katie's favorite recipes is for Chocolate Chip Cookies.  Oooh!  Yum!  So nice on a cold day with a cup of tea or cocoa, or on a hot day with an ice-cold glass of milk.  I hope you'll enjoy them as much as Katie and her friends at the Alley do!
Chocolate Chip Cookies
2 1/4 cups all-purpose flour
1 teaspoon baking soda
1/2 teaspoon salt
1 cup (1/2 pound) butter, softened
3/4 cup granulated sugar
3/4 cup packed brown sugar
1 teaspoon vanilla extract
2 eggs
2 cups (12-ounce package) milk chocolate or semi-sweet chocolate chips
1 cup chopped walnuts (optional)
Preheat oven to 375ºF.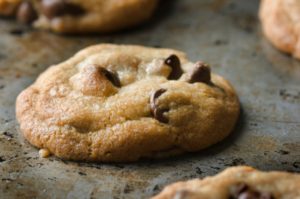 Sift the flour, baking soda, and salt into a small bowl. Cream the butter, sugars, and vanilla in a large mixer bowl. Add the eggs one at a time, beating well after each addition; gradually beat in the flour mixture. Stir in the chocolate chips and nuts. Drop by rounded tablespoon onto ungreased, foil-lined baking sheets.
Bake for 10-12 minutes or until golden brown. Let stand for a couple of minutes, and then remove to wire racks to cool completely.
Makes about 5 dozen cookies.

Download Katie's Chocolate Chip Cookie Recipe Card
Okay, so cookies are fattening.  How about a healthy cookie?  Oatmeal is good for you.  Raisins are fruit.  Nuts are protein.  Butter is dairy — four food groups in one cookie. How can you miss?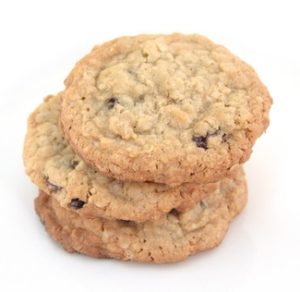 Oatmeal Raisin Nut Cookies
¾ cup butter, softened
¾ cup sugar
¾ cup packed light brown sugar
2 eggs
1 teaspoon vanilla extract
1 ¼ cups all-purpose flour
1 teaspoon baking soda
¾ teaspoon ground cinnamon
¼ teaspoon allspice
½ teaspoon salt
2 ¾ cups rolled or quick oats
1 cup raisins
1 cup chopped walnuts
Preheat oven to 375ºF.
In large bowl, cream together the butter and sugars until smooth. Beat in the eggs and vanilla until fluffy. Stir together the flour, baking soda, cinnamon, allspice, and salt. Gradually beat into the butter mixture. Stir in oats, raisins, and walnuts. Drop by teaspoonfuls onto ungreased cookie sheets.
Bake 10-12 minutes or until golden brown. Cool slightly, and then remove from sheet to wire rack. Cool completely.
Makes 4 dozen cookies.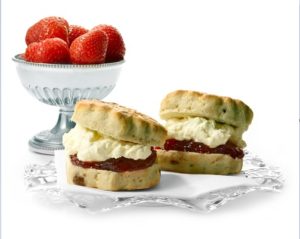 One of Katie's great aunt Lizzie's favorite recipes was for cream scones.  Katie is happy to share that recipe recipe with you, too.  Just click here.
Come Back Soon. More Recipes on the way–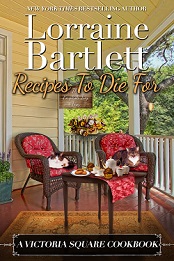 And don't forget to check out Katie's Cookbook.
Recipes To Die For: A Victoria Square Cookbook
Don't forget to join my newsletter, where I often share more of my recipes!
 
---
You can also find more Victoria Square recipes in The Cozy Chicks Kitchen.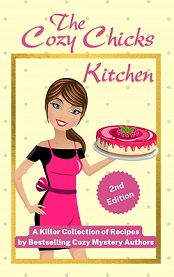 They include:
Apple Fritters
Andy's Cole Slaw
Beer Cake
Brown Sugar Walnut Cookies
Cheesy Chive Potatoes
Chocolate Sin
Peanut Butter Oatmeal Bars
Zingy Ginger Scones
Available: Trade Paperback
and in all e formats: 
Kindle ~ Nook ~ Apple Books ~ Kobo ~ Smashwords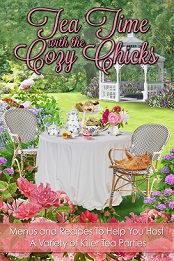 Don't miss Tea Time With The Cozy Chicks … where Katie shares more of her recipes for Tea Time at Sassy Sally's B&B.  Her fall-themed recipes include:
Honey Apple Salad
Apple-Cinnamon Scones
Apple Butter
Apple-Cheese Tea Sandwiches
Applesauce Cake
Baked Apple
Available: Trade Paperback
Kindle US | Kindle UK | Kindle CA | Kobo | Apple Books | Nook | Smashwords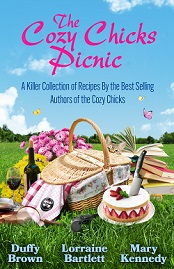 Download your FREE Copy of The Cozy Chicks Picnic
What is it about picnics that brings such summer joy? Is it breaking bread with friends and family in an ideal outdoor setting? We most often think of picnics as a family affair, but a potluck gathering with friends can be just as fun. And a picnic can be an intimate affair, too! Picnics are all these things and so much more. Find out in The Cozy Chicks Picnic is a complimentary summer cookbook of 36 recipes and is a gift to our readers.
The Cozy Chicks are Lorraine Bartlett, Duffy Brown and Mary Kennedy. Enjoy our recipes and picnic ideas.
Kindle US | Nook | Apple Books | Kobo | Smashwords
---
Did you ever wonder how where the various businesses are located on Victoria Square? Check out the maps page.