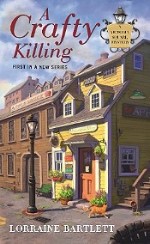 "One of the best books of 2011!"
— Suspense Magazine
In Print:   Amazon | Barnes & Noble | Indigo/Chapters
Books A Million | Bookshop.org
As E Books:
Kindle US ~ Nook ~ Kobo ~ Apple Books
~ Google Play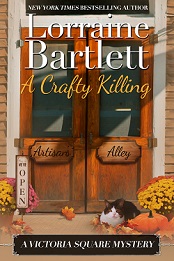 FINALLY available in the … UK, Australia, New Zealand and Ireland

Kindle UK and Ireland | Kindle AU & NL
Kobo:  UK | Australia | New Zealand | Ireland
Apple Books AU |  Apple Books NZ  |  Apple Books IE
Apple UK 
Audible US   |   Amazon   |   iTunes
================================================
Murder Is Right Up Her Alley …
The last thing Katie Bonner wanted was to become the manager of Artisans Alley. But when her business partner, Ezra Hilton, is found lying at the bottom of a staircase, bludgeoned to death, she has no other choice. A collection of booths for artisans and craft sellers in a renovated applesauce factory building, Artisans Alley is the main attraction in the quaint Victoria Square shopping area. But business under Ezra had been faltering-enough to provoke someone to murder?
While the cops are proceeding by the book, Katie is investigating by the booths-for the answer to the killer's identity lies in the hidden secrets of Artisans Alley itself.
WATCH THE VIDEO!
"One of the best books of 2011."
–Suspense Magazine
"Katie's native investigative skills match her burgeoning penchant for management, and she is able to orchestrate an artful conclusion. Bartlett has crafted an ingenious venue for her wonderful new series."
–Mystery Scene Magazine
"A CRAFTY KILLING is the first in a new series and it begins with a bang! I can't wait to see the next one. Katie is a likeable character with her quirky candy eating and her huge heart. The story line weaves you through multiple people's lives and leaves open going back into the past, or moving forward. Lorraine Bartlett is an excellent writer, portraying perfect pictures with her words that the reader just steps in and becomes part of the story with ease. This will be a series to watch!"
— The Romance Readers Connection
"A Crafty Killing is a fantastic start to a new cozy series. Ms. Bartlett has created a warm, inviting town where everyone is on a first name basis and murder is a rarity. The characters are quirky, yet relatable. They are begging to tell you the rest of their story. Ms. Bartlett has laid the perfect groundwork for future books in this series that introduces us to Katie and the people who sell their wares at Artisans Alley. Will Katie run Artisans Alley long enough to turn it around and sell it for her dream B&B, or has she found a new dream? A Crafty Killing kept my attention from the very first word until I turned the last page. The red herrings were aplenty, and the killer a complete surprise. Ms. Bartlett has created a crafty tale that must be read.
—The Best Reviews
"The plot was intriguing with twists and turns that rival the mountain roads in Pennsylvania. Each twist brought surprises or revealed possible suspects. This mystery pulled me in from the first page and held my attention throughout. The author does an admirable job of designing and executing a complex novel in which the outcome could take one of several directions. The bad guy/ gal was somewhat of a surprise; the person was one I had considered based on one clue but couldn't determine the motive. There were many breathtaking moments before the final resolution; the end was satisfying. I highly recommend A Crafty Killing and successive cozy mysteries in this series."
–Open Book Society
"This is a fun and easy read novel. I love the atmosphere of the book for the reason that Victoria Square is a dwelling for arts and crafts, coffee and tea shop, pizza parlor, goodies, and pastry shops. It is a happy place and I dream of owning one of those shops.
The story was entertaining. I could say that Katie Bonner found a family at Artisans Alley. Ironic how she was avoiding this place before, but as time goes by, it's becoming clear that her future lies in that place."
–Bits of Inkling
"A fun, new mystery with a cast of charming characters…readers will look forward to more with Katie and the artisans from Artisan Alley."
—The Mystery Reader
"A sweet new mystery series by a top-notch author who writes under a few pen names. Katie is a likable heroine, fallible yet strong, tough but tender. A great book for readers looking for something light—and who also look for happy endings. I expect this series to go on for a long time."
—Cozy Library
"This opening tale in a small-town amateur sleuth series is a terrific first act."
—Genre Go Round
"Ms. Bartlett has established a plucky, intelligent heroine in Kate Bonner and has surrounded her with a cast of fascinating multi-dimensional characters. Victoria Square is memorable right from the first–a place in which charming shops, vintage treasures, and hidden secrets coexist. I cannot wait for the next installment in the Victoria Square series!"
—Ellery Adams, author of A Killer Plot the Books By The Bay Mysteries
"Fun plot, fanciful characters, really fabulous crafts. A palette of colorful characters and enticing crafts. Bartlett put her art and soul into this mystery!
—Laura Child, author of The Teaberry Strangler, and the rest of the Tea Shop Mysteries
"In A Crafty Killing, Lorraine Bartlett has turned out a smoothly written, twisty tale full of memorable characters in a winning setting. I couldn't put it down and now I can't wait for the next one." —Mary Jane Maffini, author of Closet Confidential and all the Charlotte Adams Mysteries
"Lorna Barrett's Booktown Mysteries have enthralled readers everywhere. Now writing as Lorraine Bartlett, the author introduces Katie Bonner and her wonderful new Victoria Square Mystery series. With all the excitement, humor, and surprises you've come to expect from the Booktown series, Bartlett starts the new Victoria Square series off with a can't-miss hit!"
—Julie Hyzy, author of the Barry and Anthony award-winning White House Chef Mysteries and the Manor House Mysteries.
---

In Print: Amazon | Barnes & Noble | Indigo/Chapters
Books A Million |Bookshop.org
(As E Books)
Kindle ~ Nook ~ Kobo ~ Apple Books ~ Google Play
Available in audio!
Audible US   |    Amazon   |   iTunes   |  Tantor Media
Did you ever wonder where the various businesses are located on Victoria Square?  Check out the maps page.