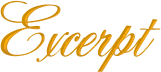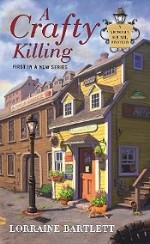 "Are you thinking maybe Andy Rust killed Ezra?" Seth shook his head, cutting another piece of pie with his fork. "Why would he wait for a decade and a half for revenge? If he held a grudge, and I don't think he did, why did he wait a year before killing Ezra?"
"To avert suspicion?" Katie asked.
"You've been watching too many TV cop shows," Seth said, amused.
Katie scraped another thin layer of chocolate and peanut butter onto her fork, trying to prolong the culinary decadence. "I did warn you I've spent the last few days thinking everyone's a murderer."
"You might be looked at as a suspect yourself," Seth admonished.
Katie gaped at him. "Me?"
"You had the most to gain. Or at least that's the way Detective Davenport's going to look at it."
"Me?" Katie echoed again.
"Think of it from a police perspective. Because of Chad's ten percent investment, when you inherit half the business, you'll gave the majority interest, meaning you get to call the shots. You got to quit a job you didn't like, and as the owner of your own business you get more respect, more prestige. People have been killed for a lot less. I wouldn't be surprised if Gerald Hilton hasn't already mentioned all this to Detective Davenport. Your favorite cop may also think you're feeding him all your suspicions to throw him off the track."
"That's ridiculous. I'm trying my darndest just to keep Artisans Alley afloat. If you want suspicious, why hasn't anyone seen Gerald Hilton since last Saturday?"
"I have."
"When?"
"This morning—he came to my office. He wants me to persuade you to sell the land to the hotel chain."
"And you didn't tell me?" Katie asked, forgetting about dessert and setting her fork aside.
"How is it relevant?"
"Oh, Seth—it proves he's got a motive for getting rid of his uncle. You said Ezra changed his will in a hurry. Had Gerald been the sole heir before that?"
Seth nodded. "I see what you mean." He polished off the last of his pie. "I wouldn't worry about any of this, Katie. Stay focused on keeping Artisans Alley open—if that's what you want."
---

In Print: Amazon | Barnes & Noble | Indigo/Chapters
Books A Million | Indie Bookstores
(As E Books)
Kindle US ~ Kindle Worldwide ~ Nook ~ Kobo ~ Apple Books
Available in audio!
Audible US   |    Amazon   |   iTunes   |  Tantor Media
---
Did you ever wonder where the various businesses are located on Victoria Square?  Check out the maps page.