Recipes To Die For

117 Recipes from the owner and vendors of Artisans Alley,
Victoria Square, and McKinlay Mill, NY.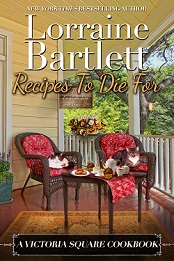 RECIPES TO DIE FOR
Publisher: Polaris Press
ISBN-10: 1466293683
ISBN-13: 978-1466293687

Trade Paperback Available From:
Amazon US  |  Amazon UK  |  Barnes & Noble
And as E Books:
Kindle ~ Kindle UK ~  Nook ~ Kobo ~ Apple Books ~ Smashwords ~ Google Play
WATCH THE VIDEO!

Cooking Is Right Up Her Alley …
Katie Bonner and the rest of the locals from Victoria Square invite you into their kitchens to share tantalizing recipes and intimate stories about food, family, and life. So tie on your apron and sharpen your knives, because Recipes To Die For is chock full of culinary treasures such as Andy Rust's Cinnamon Rolls, Vance Ingram's Barbequed Ribs, and Sweet Sue's Toffee Squares. And you don't want to miss Aunt Lizzie's Cream Scones. They're to die for!
Tea Time With Katie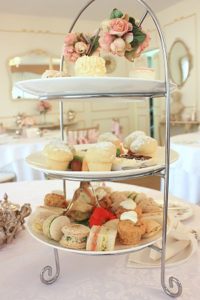 For years, Katie Bonner had planned to open her own bed and breakfast — The English Ivy Inn … but things didn't work out that way, and now she manages Artisans Alley on quaint Victoria Square.
Part of Katie's plan for the business was to serve afternoon tea in the lovely parlor of her Victorian home for her guests, and to book parties for bridal showers, baby showers, and other special occasions.  She collected quite a few recipes, as well as vintage china, linens, and silverware.
In Recipes To Die For, Katie shares her hopes and dreams for her English Ivy Inn and some of the recipes, too!  Such as her great aunt Lizzie's cream scones.
Ingredients:
2 cups sifted cake flour
2 teaspoons baking powder
½ teaspoon salt
2 teaspoons sugar
4 tablespoons butter
1 egg and 1 egg yolk well beaten
1/3 cup light cream
1 egg white, slightly beaten
sugar
Preheat oven to 450°. Sift flour once. Measure, add baking powder, salt, and sugar, and sift again. Cut in butter. Add egg and cream all at once and stir carefully until all flour is dampened. Then stir vigorously until mixture forms a soft dough. Turn out on slightly floured board and knead 30 seconds. Roll ½ inch thick and cut in triangles. Place on ungreased baking sheet. Brush tops lightly with egg white, and sprinkle with sugar. Bake 12 to 15 minutes.
Yield: 12 scones.
You can find more tea time recipes in Recipes To Die For!

Recipe Card: Aunt Lizzie's Shortbread

"This Victoria Square community cookbook's charming collection of recipes is murderously delicious.  Lorraine Bartlett claims that "cooking can be murder," but seriously … some of these recipes make you feel like you've died and gone to heaven. Oh, those peppermint patties!"
—The Feathered Quill Book Reviews
"Recipes To Die For: A Victoria Square Cookbook has found a permanent home in my kitchen. This is truly a one-of-kind cookbook that should be in your kitchen as well."
–Escape with Dollycas into a Good Book
Praise For Katie Bonner and Victoria Square . . .
"It doesn't get any better than this! We already love Lorraine Bartlett's books, but now, sharing recipes from her Artisans Alley series, she's really outdone herself. These are wonderful, real, delicious recipes to enjoy while we read her fabulous stories. Well done!"
—Julie Hyzy, bestselling author of the Manor House Mysteries and White House Mystery series

"Bartlett has crafted an ingenious venue for her wonderful new series."
–Mystery Scene Magazine
"The characters are quirky, yet relatable. They are begging to tell you the rest of their story. Ms. Bartlett has laid the perfect groundwork for future books in this series."
—The Best Reviews
"A fun, new mystery with a cast of charming characters…readers will look forward to more with Katie and the artisans from Artisans Alley."
—The Mystery Reader

 Amazon US  |  Amazon UK  |  Barnes & Noble
And as E Books:
Kindle US ~ Kindle UK ~ Nook ~ Kobo ~ Apple Books