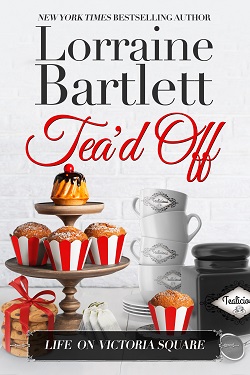 Life On Victoria Square #6
With the grand relaunch of Victoria Square's tea shop, Tealicious, just days away, Nona Fiske decides it's time to sabotage it and its owner, Katie Bonner. With gossip, innuendo, and outright lies, Nona tries to turn the other merchants on the Square against Katie. But Katie has learned how to deal with people like Nona. Can she kill with kindness?
This story takes place between the Victoria Square mystery novels Yule Be Dead and Killer Ink.
Kindle | Nook | Kobo | Apple Books | Google Play | Smashwords
 WATCH THE VIDEO

What Amazon Readers Are Saying about TEA'D OFF!
"A warm and delightful taste of Victoria Square! Whether or not you have read the full novels of Artisons Alley, you can appreciate the community with this short visit to Victoria Square. " — Jeanie D.
"A wonderful short story about compassion, friends and how to deal with nasty lies in a kinder way." — Sonny's Mom
"I enjoy these mini stories that are put in between the full length books because they give you the opportunity to keep up with favored characters. " Taryn L.