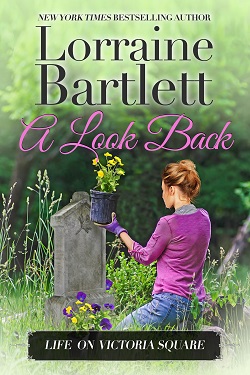 LIFE ON VICTORIA SQUARE #8  
On the anniversary of her great Aunt Lizzie's death, Katie Bonner reflects on the course of events that led her to be the custodian of Artisan's Alley–from the moment her husband took their savings and invested it in a dying business to the death of its founder, Ezra Hilton. And it's with tears of sadness and joy that Katie contemplates her uncertain future.
This story takes place just before the events in the Victoria Square Mystery (#7) A Murderous Misconception but may be read as a stand-alone introduction to the series.
Kindle | Nook | Kobo | Apple Books | Google Play | Smashwords
Watch the video booktrailer!
---
What Amazon Readers Are Saying About A LOOK BACK!
"An interesting look back into the very beginnings of this series. Bittersweet memories and doing what is needed to survive." –Beverly J.M.
"Kind of a prequel to the first Victoria's Square book. It's very good and explains a lot about Katie and Chad. Also, a nice crossover from another series by Ms. Bartlett." –Wendy Xyz

"What fun to learning even more about Katie Bonner. All of the backstories have been good. This one is great."
–Terri228
"Katie has always been my favorite character, so learning her backstory was like getting to know a good friend better. This is a nice short story to show that our lives don't always turn out as you think, but you can adjust and survive." Kim T.
---

In A Look Back, you met Tori Cannon and Kathy Grant, Katie's college roommates. But did you know Tori and Kathy have had adventures of their own? Check out the Lotus Bay Mysteries, beginning with the prequel, Panty Raid.
---
Did you ever wonder where the various businesses are located on Victoria Square?  Check out the maps page.