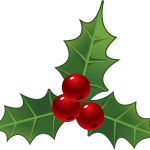 The holidays bring out the best—and sometimes the worst—in us. Sometimes it's our families who bring out the best and worst of us, too. And sometimes the people who make up your family aren't related by
blood.
The following novel and six stories show the best and the worst of people at the holidays. I hope they are as entertaining for you to read as they were for me to write!
---
From the Victoria Square Mysteries
Yule Be Dead
It's Christmastime, but not everyone is jolly–especially not Vonne Barnett. Her dead body has been found near Victoria Square. Katie Bonner, the manager of Artisan's Alley, happens to be at the tea shop Vonne's mother, Francine, owns when the news is delivered.
Vonne left a trail of men behind her so the suspects are many–but the clues are few. A broken teacup leads Katie to one of the suspects, but before she can investigate, she's attacked. Katie may be closing in on a murderer, but time is ticking because the murderer is definitely closing in on her.
Amazon | Barnes & Noble | Books a Million | Chapters
Kindle | Kindle AU | Kindle UK | Nook | Apple Books
Kobo US |  Kobo UK | Kobo AU | Kobo NZ | Kobo SA
Available on Audio, too!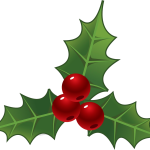 Katie bakes holiday treats for her friends at Artisans Alley and the merchants on Victoria Square.  Here's her sugar cookie recipe that she uses for cut-outs.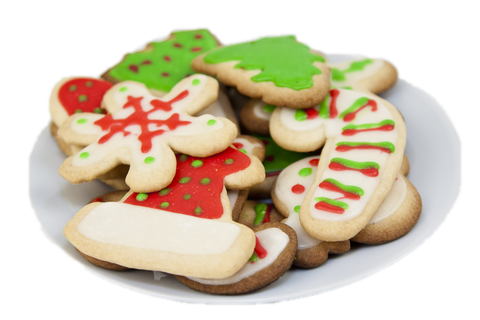 Katie's Sugar Cookies
Ingredients
1½ cups butter, softened
2 cups granulated sugar
4 eggs
1 teaspoon vanilla extract
5 cups all-purpose flour
2 teaspoons baking powder
In a large bowl, cream together the butter and sugar until smooth. Beat in the eggs and vanilla. Stir in the flour, baking powder, and salt. Cover, and chill the dough for at least one hour (or overnight).
Preheat the oven to 400°F (200ºC, Gas Mark 6). Roll out the dough on a floured surface ¼ to ½ inch thick. Cut into shapes with any shape cookie cutter. Place cookies 1 inch apart on ungreased baking trays. Bake 6 to 8 minutes in preheated oven. Transfer to wire racks and cool completely.
Yield: approximately 60 cookies
---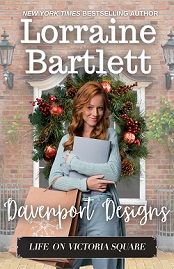 Former Sheriff's Office detective Ray Davenport now owns the Wood U gift shop on Victoria Square, but it's his talented younger daughters who steal the show with their displays and packaging designs. The girls believe they can earn money for the holidays with their window-dressing skills for the other businesses on the Square, but the only merchant who hires them conspires to reap the rewards of their labor without paying a cent. Unfortunately, the girls have alienated the one person who can help them. Will they have to swallow their pride and ask Katie Bonner for help to get what's owed them?
Kindle | Nook | Kobo | Apple Books | Google Play | Smashwords
WATCH THE VIDEO BOOKTRAILER
There are three davenport sisters. Sasha and Sadie are featured in Davenport Designs, but they have an older sister, Sophie, a student at the Culinary Institute of America. Here's her favorite holiday recipe handed down from her maternal grandmother.

Grandma's Snowball Cookies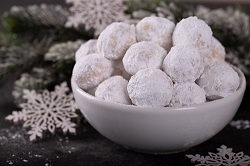 Ingredients
2¼ cups all-purpose flour
¾ cup walnuts (or other nuts) finely chopped
½ teaspoon salt
1 cup butter unsalted, softened
1 teaspoon vanilla
½ cup confectioners' sugar plus extra for dusting
Preheat the oven to 400°F. Line a baking sheet with parchment paper. Combine the flour, walnuts and salt in a small bowl. Set aside. Beat the butter, vanilla, and powdered sugar with a mixer until creamy. Turn the mixer to low and add the flour mixture until combined. Form the dough into 1″ balls and place on prepared pan. Bake 8-10 minutes or until the bottom edges of the cookies are lightly browned.
Cool a few minutes until you're able to handle the cookies. Roll in confectioners' sugar and place on a rack to cool completely.
Yield: 2 dozen cookies
---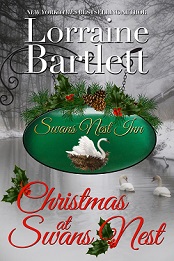 From the Lotus Bay Mysteries
Christmas At Swans Nest
The holidays are fast approaching, and Kathy Grant is hard at work on the renovations of her soon-to-be bed and breakfast. An unexpected winter storm disrupts her friends' plans, and it looks like her B&B will have to open a little early. And then there are the cryptic notes that hint of a treasure to be found somewhere in the house. Will Kathy and her friends find a cache of cash?
Kindle | Nook | Apple Books | Google Play | Smashwords | Kobo
Read more about the series. Click here!
Kathy Grant was a born baker, and she's been collecting recipes like crazy prior to the opening of the Swans Nest Inn. Here's one she'll be serving every holiday season.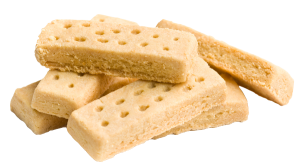 Kathy's Shortbread
Ingredients
½ cup (1 stick) butter
1/3 cup granulated sugar
1 cup all-purpose flour
More granulated sugar
Preheat the oven to 375ºF (190ºC, Gas Mark 5). Beat the butter and the sugar together until smooth. Stir in the flour to get a smooth dough. Turn on to a work surface and gently roll out until the dough is ½-inch thick. Cut into rounds or fingers and place onto a baking tray. Prick evenly with a fork. Sprinkle with more sugar and chill in the fridge for 20 minutes. Bake in the oven for 15-20 minutes, or until pale golden-brown. Set aside to cool on a wire rack.
Yield: 20-24 pieces
---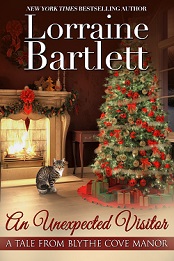 From the Tales of Blythe Cove Manor series
An Unexpected Visitor
All is quiet at Blythe Cove Manor as its proprietress, Blythe Calvert, anticipates a peaceful holiday along with her cat, Martha. But then a taxi pulls up and drops off a troubled, runaway teen looking for a safe haven. Can the magic of Blythe Cove Manor heal this young girl's aching heart?
Kindle |  Nook | Apple Books | Kobo | Smashwords | Google Play
Read more about the series. Click here!
Blythe Calvert uses her Aga cooker to bake all the goodies at Blythe Cove Manor. Here's one of her favorite holiday recipes …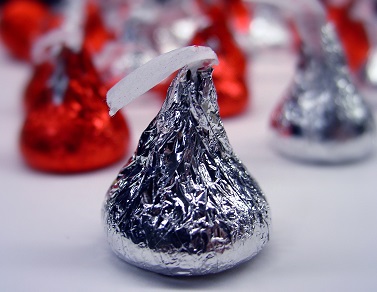 Cherry Chocolate Kisses
Ingredients
1 cup unsalted butter, softened, but still cool
1 cup confectioners' sugar
1/8 teaspoon salt
2 teaspoons maraschino cherry "juice"
¼ teaspoon almond extract
2 and ¼ cups all-purpose flour
½ cup maraschino cherries, chopped
Granulated sugar, for sprinkling the cookies
36 milk chocolate kisses, unwrapped
Preheat the oven to 325 degrees. In a large bowl, beat the butter with an electric mixer at medium speed until creamy—about 1 minute. Reduce the speed to the lowest setting and slowly add the confectioners' sugar and salt. Add the cherry juice and the almond extract until combined. With the mixer still on low, slowly add the flour, scraping down the sides of the bowl as needed. Increase the mixer speed to medium and add the cherries. Shape the dough into 1-inch balls, and place the balls on a baking sheet, approximately 2 inches apart. Using your thumb, gently press each cookie in its center until the cookie is about  ½-inch thick. Sprinkle each cookie with a little granulated sugar. Bake the cookies until the bottoms are lightly browned, about 14 minutes. Once removed from the oven, immediately press a chocolate kiss into each cookie's center. Transfer the cookies to a wire rack to cool completely.
Yield: approximately 36 cookies
---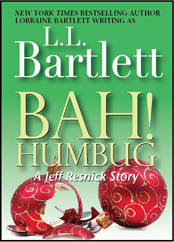 From the Jeff Resnick Mysteries
Bah! Humbug
It's Christmas Day, and Richard and Brenda are off to warmer climes, leaving Jeff and Maggie to spend Christmas dinner with Maggie's family. But the Brennan clan has not rolled out the welcome mat for Jeff. It'll be a Christmas to remember . . . but who wants to? (This story immediately follows the novel Cheated by Death.)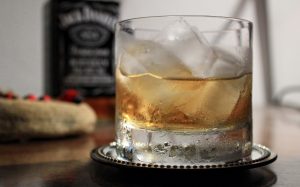 Kindle | Nook | Apple Books | Kobo | Google Play | Smashwords
Read more about the series. Click here!
No doubt about it.  It's a rough Christmas for Jeff. So much so, that he has opened none of his gifts.
---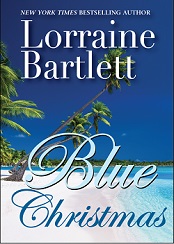 Blue Christmas
Christmas used to be a joyous time for Judi Straub, but that was before her parents passed away and her siblings became too busy to socialize with their old maid sister. Holidays spent with friends were a nightmare. Then one late December Judi wins an all-expense-paid trip to Puerto Rico where Harry Powell sweeps her off her feet.  Still, her fantasy of happily-ever-after is quickly derailed, but perhaps this Christmas will offer her one more magic moment.
Kindle | Nook | Apple Books | Kobo | Google Play | Smashwords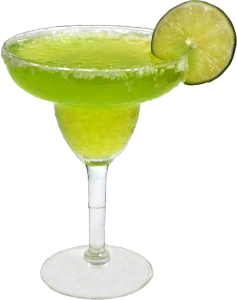 Join Judi for a margarita!
Ingredients
1 1/2 ounces  tequila
3/4 ounce Cointreau or triple sec
3/4 ounce fresh lime juice
Lime wedge, coarse (kosher) salt
Rim a chilled cocktail glass with the lime and salt. Shake the remaining ingredients with ice and strain into glass. Serve in a classic margarita cocktail glass.
---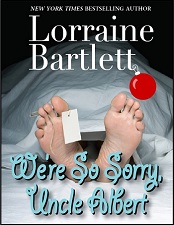 We're So Sorry, Uncle Albert
The Nichols family is all in a tizzy when it's discovered their penny-pinching Uncle Albert is worth millions. They decide the old man has overstayed his worldly welcome, but can they bump him off and get away with it?
Kindle | Nook | Apple Books | Kobo | Google Play | Smashwords
The Nichols Family has a weakness for sweets. Try …
Mandy's Chocolate Whiskey Truffles
Ingredients
8 ounces semisweet chocolate, chopped
½ cup unsalted butter
2⁄3 cup vanilla wafer cookies, crushed
3 tablespoons whiskey
1⁄3 cup unsweetened cocoa
1⁄3 cup icing sugar
chocolate or other sprinkles, chopped walnuts or pecans optional
Melt the chocolate and butter in heavy saucepan over low heat, stirring until smooth. Mix in crushed cookies and whiskey. Pour into a bowl, cover and chill about 45 minutes. Line a cookie sheet with foil and drop truffle mixture by tablespoon, spacing apart Freeze 15 minutes. Sift cocoa and 1/3 cup sugar together. Roll each truffle in the sugar and/or other optional ingredients. Place in air tight container and refrigerate. Can be made up to a week before serving. Let stand at room temp for 15 minutes before serving.
Yield: 24 truffles
---
Get the short stories on audio, too!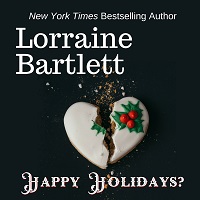 Narrated by Anna Riley and Steven Barnett
iTunes US  |  Kobo  |  Nook Audio
iTunes UK | iTunes AU | Spotify